Reminder — this Saturday, the Friends of Southborough Youth Commission (FSYC) is hosting its second annual shopping event as a fundraiser for the Southborough Summer Camp Scholarship program.
The "Shop with a Purpose" Craft & Vendor Fair takes place just in time for Mother's Day (which is this Sunday). It's perfect timing to shop for your mother/wife. (And don't forget upcoming graduations and other celebrations.) But you can also just shop for yourself.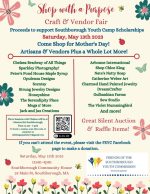 The admission-free shopping event will take place in the Community House again (28 Main Street) from 11:00 am – 4:00 pm.
The flyer promotes over 15 committed vendors, plus mini photo shoots (at a satellite location).
The event will again include a raffle, and organizers have shared a sample list of the many items that will be sold through their Silent Auction.
The following artists/entrepreneurs will be among those selling goods at the Community House:
Peter's Pond House Maple Syrup
Opulenza Designs
Scentsy
Strung Jewelry Designs
Honeyshine
The Serendipity Place
Mugs n' More
Jack and Jax Creations
Arbonne International
Shop Chloe King
Nate's Natty Soap
Catherine Weber Art
Charmed Hand Painted Jewelry
DreamCrafter
Gulbankian Farms
Sew Studio
The Violet Hummingbird
The Silent Auction will include:
Les Paul style Electric Guitar
Red Sox Tickets
Patriots Tickets
Cookies by The Fierce Baker
Plants from Gulbankian Farms
Flowers by Peppers & Fern
Norwex Eco-friendly wet & dry mop
Opulenza Designs jewelry
Shop Chloe King Design Service
Wine & Cheese Basket
Gift certificates from:
All things Sparkly Photography
Release Wellness
Well Nested
Festive Breads
Hashtag Beauty Salon
and a whole lot more!
The photo shoots will be held down the street at Apothecary Artists Studios and Gallery, 1 Boston Road. You can sign up for a 15 minute time slot with Chelsea Bradway of All Things Sparkley. (Click here or email allthingssparkley77@gmail.com.)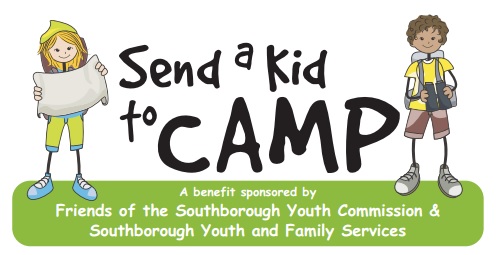 The campership program enables Southborough Youth & Family services to help families that need support to send their children to summer camp.
Scholarship discounts are provided based on families' size and income. (Learn more here.) The agency's ability to fund the scholarships is dependent on the ongoing fundraising of FSYC.
If you will be unable to attend the fundraiser (or even if you can), you can donate directly to FSYC to support the cause. You can donate online through the donate button on their Facebook page. (They also accept Paypal donations, but that vendor deducts a transaction fee).
If you prefer sending checks, they should be made out to Friends of the Southborough Youth Commission and sent to Friends of the Southborough Youth Commission, Attn: Kathy Cook, 132 Turnpike Rd, Suite 250, Southborough, MA 01772.
This fundraiser is timed to be part of Southborough Youth & Family Services' Mental Health Awareness Month events. Check out more events in the May series here.