We're midway through Mental Health Awareness Month (MHAM). Since I forgot to include this weekend's adult yoga events in my "Events this week" post, I'm sharing a reminder of the initiative and events (including one this afternoon).
The event series organized by Southborough Youth & Family Services in partnership with other Town departments and committees. This year's activities include several events that are still to come.
May is Mental Health Awareness Month. The goal of Mental Health Awareness Month is to raise awareness about mental illness and to reduce the stigma that surrounds it. During this month, we strive to educate the community about the importance of mental health and how it affects us all.
Ongoing Events
Through the end of May, residents have been encouraged to wear green ribbons and display green "luminary bags" outside their home each night to "Leave the Light on" in support for MHAM.
(2 bags per household were promoted as available at the Town House, Southborough Library, or SYFS' office at 21 Highland Street while supplies last.)
Remaining Special Events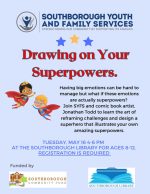 Drawing on Your Superpowers
Tuesday, May 16, 4:00 – 6:00 pm @ Southborough Library
This is a special program for 8-12 year olds.
"Having big emotions can be hard to manage but what if these emotions are actually superpowers? Join SYFS and comic book artist, Jonathan Todd to learn the art of reframing challenges and design a superhero that illustrates your own amazing Superpowers."
Registration is required. Click here to sign up.
Yoga on the Trails
Sessions in May and June @ Sudbury Reservoir Trail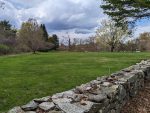 Although it's not on SYFS' official MHAM activity list, the Trails Committee is hosting this special series in support of the campaign.
Specific yoga sessions are geared to families, adults, and teens. The sessions will be led by Emma Bartolini, "a yoga teacher, artist, dancer with a special affinity to all things botanical."
Adult Yoga Sessions, Saturday, May 20th at 10:00 am and Sunday, May 21st at 9:00 am
Teens Yoga Session, Sunday, June 4th at 11:00 am
To register, and for more details, click here.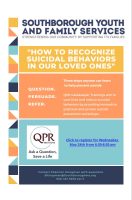 How to Recognize Suicidal Behaviors in Our Loved Ones
Wednesday, May 24th 6:30-8:30 pm @ 21 Highland Street
A QPR (Question, Persuade, Refer) Gatekeeper Suicide Prevention Training session. SYFS describes it as "a grass-roots way for you to help keep friends, loved ones, and our community safe." Like CPR, QPR "teaches basic skills to help a person in crisis."
Registration is required. Click here for more details and to sign up.
Celebrate Wellness Event
Wednesday, May 31, 6:00 pm @ the Community House, 28 Main Street
The free event celebration to wrap up the month's MHAM events includes music, art, entertainment and light refreshments. No registration is required.
The event will include recognition of this year's winner of the Laurie Sugarman Whittier Wellness Award, late resident Kim Tolander. (Read more about the event and award here.)
You can open the 2 page flyer of the full month's activities here. For information and registration for other upcoming programs offered by SYFS, click here.