BSA Troop 92 is launching an Invitational Golf Tournament this spring. The "first annual" event will take place at the Southborough Golf Club.
The flyer promotes an 18 Hole tournament. Organizers confirmed that means two rounds of golf at the 9 hole course.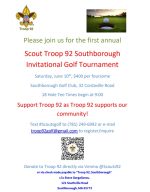 The fundraiser will take place on Saturday, June 10th with tee times beginning at 9:00 am. The cost is $400 per foursome.
To register or ask questions, text #Scoutsgolf to 781-249-6992 or email troop92golf@gmail.com.
Fees (or donations) can be paid by Venmo to @Scouts92. Or checks made out to "Troop 92, Southborough" can be mailed c/o Steve Gargalianos, 121 Southville Rd, Southborough, MA 01772.
Organizers remind that Troop 92 scouts support the community. (I wrote about one of the troop's recent community service projects here.)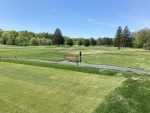 Since the most recent post I ran on the tee box reconstruction project at the Southborough Golf Club showed brown grass, dirt piles and diggers, I thought I'd share a photo showing the green course and newly sodded, reconstructed box.
Although, it's still roped off, it will be opened once management is confident the grass is safely established — which is expected to be in time for this tournament.
Updated (5/18/23 5:56 pm): I heard back from the club management which confirmed that they plan to have the tee opened in time for June 10th.