This weekend is a busy one in Southborough — especially for anyone looking to buy plants.
This morning, I posted news of OSPC's native plant sale added to their Sunday events.
With the potential for rain tomorrow morning, I reached out to organizers of the Southborough Gardeners' annual Spring Plant Sale planned for Saturday. The answer was that their "hardy" members won't let a little rain get in the way.
I've also been asked by Chestnut Hill Farm to share details of their Seedling Sale this weekend.
Spring Plant Sale by the Southborough Gardeners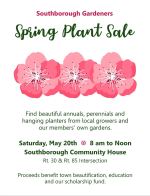 The Gardeners' plants are ready for sale and need new homes. So, the event will go on rain or shine from 8:00 am to 12:00 pm this Saturday, May 20th at the Community House, 28 Main Street.
The Gardeners proudly promote that their sale is well known for the perennials that members dig out of their own gardens to donate. They "have been tested by our own member's gardens" and include varieties "not usually seen in commercial greenhouses".

Photos from the Gardeners' gallery on their website show examples from past sales that included lush geraniums and impatiens.
Proceeds from the sale go towards the club's Town beautification and education efforts, and their scholarship program.
To learn more about the Southborough Gardeners, click here.
Seedling Sale by the Trustees at Chestnut Hill Farm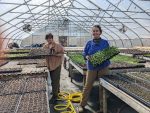 The Trustees of Reservations are promoting the sale of more than 50 varieties of organic vegetables, herbs and flowers from Chestnut Hill Farm. They have put together a "look book" with over 120 pages of details on each plant along with some gardening tips. You can read that here.
The sale will run this Saturday and Sunday, May 20th & 21st, from 9:00 am – 4:00 pm. The Trustees promote the farm at 5 Chestnut Hill Road as "The last working vegetable production farm in Southborough" with "170 acres of land open to the public."
According to the Trustees, the seedlings for sale were "carefully nurtured" in the greenhouse to "set home gardeners up for success".
Farmers will be onsite during the sale to answer questions and offer suggestions to home gardeners – amateurs and seasoned alike. Children can select from some of their favorite vegetables and flowers, to help make gardening a family activity.
Shoppers can also pop into the Chestnut Hill Farm Store, where they can sample infused beverages by DemoBar.
To make the event more inviting for families, it will also include the pubic debut of the farm's new bunnies "Rabbid and Turnip". Families can also visit the StoryWalk on the farm trail.
Updated (5/19/23 3:15 pm): If you are planning to pick up some cucumber or squash plants at the farm's sale, you may also want to carve out time to attend the free "Growing Cucurbits Workshop" at the Library on Saturday at 2:00 pm. Blackstone Valley Veggie Gardens will present how to get the best yield possible. No registration is required.