The Open Space Preservation Commission has updates on their Planet Palooza events this weekend. A Native Plant Sale will follow the concert and garden tour.
Organizers are also encouraging residents to use the events that begin at noon on Sunday as an opportunity to picnic.

The events (rescheduled from April due to the weather) will take place May 21st on the Southborough Library's grounds (25 Main Street).
Due to Saturday's rainy forecast*, attendees should dress with the expectation that the ground will be wet.
Below are all the details.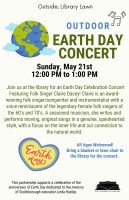 Outdoor Earth Day Celebration Concert
12:00 – 1:00 pm

Enjoy an outdoor concert with Folk Singer Claire Dacey.
"Claire is an award-winning folk singer/songwriter and instrumentalist with a voice reminiscent of the legendary female folk singers of the 60's and 70's. A seasoned musician, she writes and performs moving, original songs in a genuine, openhearted style, with a focus on the inner life and our connection to the natural world."
Attendees are encouraged to bring chairs (or blankets if they aren't worried about the wet ground). They're also welcomed to bring a picnic lunch with them.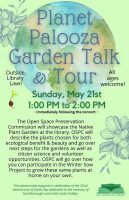 Garden Talk & Tour
1:00 – 2:00 pm

Immediately following the 1-hour concert, OSPC will showcase its Pollination Preservation Garden on the Southborough Library's grounds.
"We will describe the plants chosen for both ecological benefit and beauty and go over next steps for the gardens as well as citizen science and volunteer opportunities. OSPC will also go over how you can participate in the Winter Sow Project to grow these same plants at home."
OSPC has organized this sale of several varieties of native plants. The plants are all considered beneficial for area at-risk pollinators. (They are from a list provided by Dr. Robert J. Gegear of the Beecology Citizen Science Project.) The majority of the varieties are included in the Pollination Preservation Garden.
Plants will be sold by three vendors:
Plugs for $3.00 (Rose Milkweed, a perennial)
4-inch pots of perennials for $7.50 (11 varieties to choose from)
Small shrubs for $20-$25 (5 varieties available)
For more details, see the flyer above right.
*It's iffy whether the rain will hold off enough not to dampen the Southborough Gardeners Plant Sale on the 20th but the current forecast shows that it will end before the OSPC's Sunday events.
Updated (5/19/23 12:16): I received a corrected flyer for the sale.