Southborough Youth and Family Services is sponsoring a special LGBTQ+ panel presentation next month. Friends, family, allies, and community members are invited to attend.
A flyer promotes, "Learn how to support your loved one's journey".
The Pride Month event will feature LGBTQ+ supporting organizations — Southborough Safe Spaces, OUT Metrowest, and GSA Link — plus youth from local LGBTQ+ groups.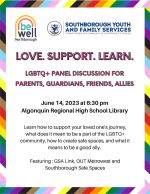 This discussion will be held Wednesday, June 14th at 6:30 pm. SYFS invites:
Come listen to questions being asked of LGBTQ+ professionals and parents with an opportunity for you to ask your own questions such as:

How do I navigate my friend's changing pronouns?
My child has just come out to me. How do I best support him/her?
Is it ever too young to be a member of the LGBTQ+ community?
How to support youth being bullied or harassed?
What resources are available to my family?
and other important questions
The flyer also offers to cover:
what does it mean to be part of the LGBTQ+ community, how to create safe spaces, and what it means to be a good ally.
The event will take place at Algonquin Regional High School (79 Bartlett Street, Northborough) and be recorded by Northborough Access Media. (The video will be eventually made available on their YouTube channel.)