Covid-19 in Southborough: Situation and Updates (Updated)
Info below was last updated – May 18th 1:25 pm. (To see if there is a more recent update, click here.)
The numbers in Southborough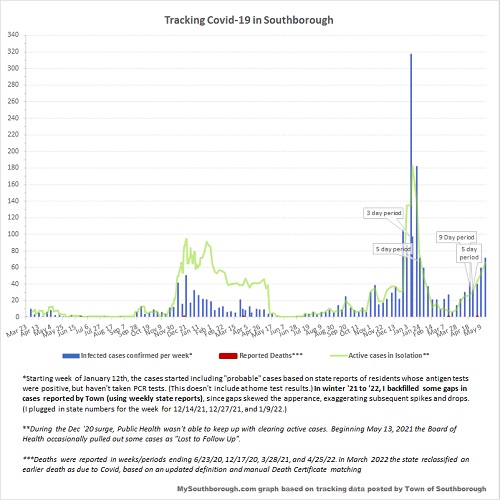 Town data is based on Southborough Board of Health's figures as of May 16th. (These days updates are issued weekly, usually on Mondays.)
At that time there were 71 new or probable cases confirmed in one week, 130 in 2 weeks. [Somehow, I had a strange typo there. We never came close to 1199 in two weeks – which would have been astronomically beyond any record – not just "The number of cases per day over two weeks is at its highest since January."]

The Town's cumulative total over the course of the pandemic is 2223 cases with 66 cases labeled active. (For details, click on graphs above and right.)
A total of five residents' deaths have now been attributed to Covid-19 over the course of the pandemic.

(In March 2022, the state updated records retroactively reclassifying deaths based on a new definition and a manual search of death certificates. For Southborough that resulted in one additional case, bringing the total from 3 to 4.)

Demographics: The Town website page provides the age ranges of infected residents. Below are my graphs showing the age breakdown and the ages over the course of the pandemic. (Click to enlarge.)
Testing: For the latest options for getting tested, see the Town's page here.
State reporting on Southborough:

Testing & Positivity Rates – A recent report (issued May 12th), based on overlapping data, indicated 95 cases in two weeks with an Average Daily Incidence Rate per 100,000 of 70.2 (an increase from the prior week). The % of tests confirmed positive was 12.10% (slight decrease). (The reports issued on Thursday evenings are based on results from tests taken during the 14 day period ending the prior Saturday.) See my tracking of the testing & positivity rates right.
You can also see a regional map of the most recent incidence rate right.
Vaccinated Residents

As of the April 21st report – stats still indicated about 95% of eligible Southborough residents were fully vaccinated and about 67% of ages 12+ had boosters as of April 19th. (Because the movement has greatly slowed in these figures, I'm updating them less frequently these days.)
(I used census data since the state's population data was clearly outdated. Yet even that clearly undercounts our population.)
More highlights by age group and gender are in charts the chart above right and graphs below, plus NSBORO's latest posted data for vaccinated students:

(For more details, plus race/ethnicity rates, click here.)

Vaccine Clinics

To find clinics/locations to receive a Covid Vaccine (including boosters) click here.
When the Town promotes special clinics, you can find that info here.
NSBORO Numbers
The most recent Northborough-Southborough Public Schools District Dashboard covers through Wednesday, May 11th. Daily Counts cover through May 9th.
New Cases & Transmissions

In one week, 144 cases were reported – 83 from Southborough K-8 and 17 from ARHS.
Daily Counts showed 26 additional cases for the following two days through Friday – 11 from Southborough and 6 from Algonquin.
Attendance was down to 91.7%.

Testing

The most recently reported pooled testing screened only 11 cases. 6 more were identified through testing symptomatic students/staff.

In February, the District replaced the Test and Stay protocol for close contacts with the option for all students to opt-in for rapid tests to take at home each Thursday morning, in addition to the weekly pooled screening each Monday.

Masks

Masks are no longer required in NSBORO schools or on buses (with a couple of exceptions). [Note: The administration will reexamine that if attendance drops below 92% and Covid infections appear to be a main factor. Generally, the NSBORO attendance rate is 94% or higher.]
Story & Update links
The Town lifted the mask mandate in public buildings on February 8th, then lifted its mandate for municipal buildings on February 15th.
For Covid-related stories, starting with the most recent, click here.
Official updates by the Town are on the Town's dedicated website page – click here. (And click here to subscribe to their email updates.)
For stories on how the community made efforts to feel less isolated, offer aid, spread some joy or help mitigate stress, click here for coming-together posts.
For information beyond our Town, click links for CDC and updates by Mass DPH and the Governor.