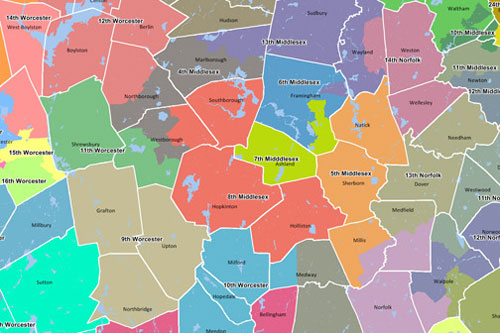 I've long wondered if Southborough being split between two legislative districts, as we are now, is a good thing or a bad thing for the town. Turns out it might be a moot question. The redistricting plan released by the state yesterday would reunite the town under a single district.
Currently Southborough Precinct 1 is part of the 4th Middlesex district – along with Marlborough and Berlin – represented at the statehouse by Steve Levy (R-Marlborough), while Precincts 2 and 3 fall in the 8th Middlesex – along with Hopkinton, Holliston, and parts of Medway and Westborough – represented by Carolyn Dykema (D-Holliston).
Under the proposed plan, all of Southborough would be part of the 8th Middlesex. As Twitter user Alex Neihaus put it, "Humpty Dumpty is back together."
But is that a good thing?
On the one hand, having Southborough precincts in separate districts means there is no single voice representing the unified concerns of the town. On the other, where we currently have two legislators fighting for our interests, whereas under the redistricting plan we'll only have one.
What do you think? Is this a good thing for Southborough or a bad thing? Share your thoughts in the comments below. More importantly, you should also head over to the state's redistricting page to check out the maps for yourself, and then submit your comment – good or bad – to the committee. The public comment period ends October 31.