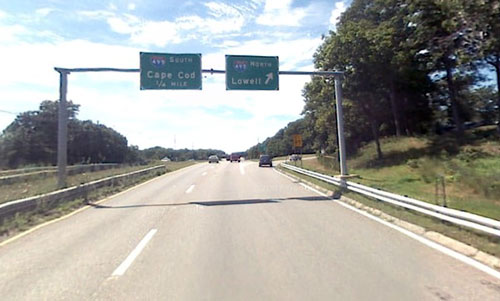 Traffic problems along Route 9 on Southborough's western border have gotten a lot of attention from town officials and residents concerned about the impact of planned development at Park Central.

Development plans call for the building of over 330 condo units and townhouses behind Park Central Drive.
With that drive closely preceding the Route 9 on ramp to 495 North, MassDOT has purportedly informed the developer and town officials that access via that street should be blocked off. Instead, traffic will be routed to Route 9 via Flagg Road. (Click thumbnail to enlarge.)
Officials concerned about increased traffic in an already congested area have been pushing the state for improvements to Route 9 and the 495 Interchange.
According to local legislators, planned projects to improve the interchange, and another for 495 at the Mass Pike, were recently in jeopardy. But, never fear, their priorities have be re-secured. Our state representative, state senator and other local reps lobbied to prioritize the projects.
Here's one of the press releases I received from the State House on Friday:
MetroWest Legislators Work with Baker-Polito Administration to Restore 495/9/90 Interchange Projects to State Infrastructure Priorities

The MetroWest legislative delegation is pleased to announce they have worked successfully with the Baker-Polito administration and the Central MA Metropolitan Planning Organization (MPO) to restore the I-495/Rte. 9 project in their Long Range Transportation Plan, Mobility 2040. Additionally, the delegation welcomed MassDOT's proposal to include the I-90/I-495 Interchange Improvements Project in the CIP (Capital Investment Plan). This outcome was reached after learning earlier this week that the projects were in jeopardy of being removed from the list of projects prioritized for state-wide infrastructure investment. 

Senator Jamie Eldridge (D-Acton), and Rep. Carolyn Dykema (D-Holliston), Rep. Hannah Kane (R-Shrewsbury), Rep. Danielle Gregoire (D-Marlborough), Rep. Kate Hogan (D-Stow), Rep. David Linsky (D-Natick) and Rep. Chris Walsh (D-Framingham) advocated for the inclusion of these projects in the Central Massachusetts Long Range Transportation Plan in a June 17, 2015 letter to Transportation Secretary Stephanie Pollack. In the letter, which was presented at Wednesday's MPO meeting in Worcester, legislators outlined concerns for safety, congestion, and economic potential of the region if these two crucial projects were removed from the list of priority investments.

The delegation, working with Congressman James McGovern, the 495/MetroWest Partnership, and the community of Westborough, was pleased to receive the support of the Baker-Polito administration for restoration of the projects to the list of regional priorities.

At Wednesday's meeting, Steve Woelfel of MassDOT assured those in attendance that the department continues to be committed to the I-90/I-495 Interchange Improvements Project. Following this statement, MassDOT provided funding options for the project stating the agency "will continue to work on this project's planning, design and environmental" analysis.

"The Baker / Polito Administration will continue to prioritize transportation investments like these that are important to regional economic activity. Advancing these two projects through to construction will require that we continue this strong federal, state, local, and regional partnership to create a 21st century transportation system throughout the Commonwealth," said MassDOT Secretary and CEO Stephanie Pollack.

"I would like to thank Secretary Pollack and the Baker-Polito Administration for their swift action in re-prioritizing these projects. Their commitment to the concerns of MetroWest communities is greatly appreciated," stated Representative Carolyn Dykema. "The 495/9/90 Interchanges are the most highly trafficked in the region and these improvements are essential for the quality of life, safety, and continued economic growth in MetroWest. While there are still many details that remain, retaining the projects as regional priorities is an important step."

"Restoration of the 495/90 and 495/9 interchange improvements projects is critical to the MetroWest and Central MA regional economies and necessary to alleviate the significant congestion and safety concerns with the current infrastructure," stated Representative Hannah Kane. "I am grateful that the Baker-Polito Administration and Secretary Pollack worked quickly to reaffirm to the delegation and the communities in the corridor that these projects were still a priority. The administrations immediate response is indicative of their commitment to be a partner to communities and illustrates a willingness to prioritize infrastructure improvements outside of Rt. 128 belt."

"Supporting these infrastructure projects is key to growing the MetroWest economy. I am pleased that we were able to work with Secretary Pollack and the Baker-Polito Administration to re-prioritize these projects," Congressman McGovern said. "Investing in Central Massachusetts helps to keep the region strong and growing. I was proud to work with my colleagues in Congress to secure the funding for the initial planning and design of the I-90/I-495 Interchange. This is a strong step and I look forward to seeing the continued progress of these infrastructure investments."

"I'm pleased that Governor Baker's Central Mass MPO representative, Steve Woelfel of MassDOT Planning, expressed support for increased state investment in the 495/9 and 495/90 interchange improvements," said State Senator Jamie Eldridge . "I want to express my deep appreciation to the 495/Metrowest Partnership, and my colleagues in the Metrowest Legislative Caucus for reminding the Baker-Polito administration of the importance of providing state funding to these two critical road improvement projects."

"We greatly appreciate the Baker-Polito Administration's and Secretary Pollack's commitment to these projects, which have been regional priorities for over a decade," noted Jessica Strunkin, Deputy Director of the 495/MetroWest Partnership. "The 495/9/90 interchanges are critical to the 495/MetroWest economy, which is responsible for over $21 billion in annual payroll and 1 out of every 11 jobs in the Commonwealth." Both projects were listed on the 495/MetroWest Region's Top Ten Transportation Nightmares in 2014 and also in 2004.