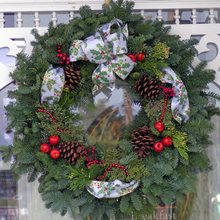 It's not even Thanksgiving, but traditional pre-holiday sales begin this week – starting today.
Gulbankian Farms Garden Center & Florist Shop is first out of the gate this week with their Holiday Open House today, Thursday, November 19, from 9:00 am – 7:30 pm.
Each attendee will receive a free "surprise" gift. And from 4:00 – 7:30 pm, enjoy coffee/tea, cookies, wine and cheese.
They are also offering special discounts that day. For more details, check out their online flyer.
The Friends of the Council of the aging are holding their annual Senior Center Autumn Fair on Saturday, November 21, from 9:00 am – 2:00 pm at 9 Cordaville Road
Stop by and enjoy refreshments, browse our unique table offerings and participate in our large raffle of local restaurants, goods and services. Goods on sale include hand knitted items, jewelry, and small attic "treasures".

Lunch will also be available which will include Hot Dogs, Chips, Drink and Apple Pie.

All proceeds from the annual fundraiser benefit the Friends of the Council on Aging. The funds help them schedule innovative programs at the Senior Center. For more details, see dedicated post.
And local artisans are holding their annual craft show, Holiday Gifts on the Common on Saturday, November 21 from 9:00 am – 3:00 pm at the Community House, 28 Main Street
Booths and tables will exhibit handcrafted wares for sale, including: baskets, children's knits, pottery, jewelry, soaps, cards, painted decorations, and more. And unlike big craft shows, entrance here is free!

For details, see dedicated post.