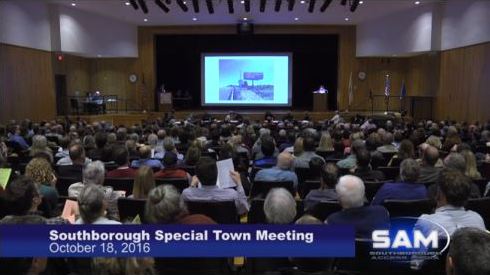 As I posted earlier, Town Meeting voters stripped the Zoning Board of Appeals of its ability to grant Use Variances. Judging by the anti-Park Central tone of the room and the number of people who left after the vote – it seemed to be one of the biggest draws of the night.*
Before the vote, residents learned that some Town officials are already working on bylaw changes to allow good development that might otherwise need Use Variances.
Proponents and the opposition had very different takes on the Use Variance issues. Article sponsor Freddie Gillespie argued for removing the bylaw's allowance of Use Variances. And Economic Development Commission's Kathy Bartolini presented their case in opposition.**
Gillespie said the granting of Use Variance exceptions are relatively easy to come by with just 4 ZBA members needing to approve it.
Bartolini said they are hard to come by. They are meant to have a high standard and getting four members of a board to agree isn't common. (That elicited some ironic laughs from the crowd, heavily populated with weary Park Central opponents.)
Gillespie claimed the variances are difficult to overturn. Residents must file appeals within a short time frame, pay lawyer fees, and prove standing – which has a higher bar than just being an abutter. And she said the work involved takes over your life. Bartolini claimed they are easily and often overturned. (Later in the evening a resident told voters that he had given up on an appeal to an abutting Use Variance after running out of money to fund the battle.)
Gillespie argued that if 80% of Towns don't allow Use Variances, the idea that it would prevent good business development didn't hold weight. Bartolini questioned the stat. She couldn't find any figures supporting it. She was able to list many area towns that do (including all surrounding towns except Ashland), plus other towns she considered comparable.  
Bartolini said that the outdated zoning bylaws are the reason Use Variances are needed. She voiced EDC's concern that businesses who know they need to come to Town Meeting to deal with zoning issues will go elsewhere. And she said that those looking to preserve Fayville Hall will need to a Use Variance since it is residentially zoned.
Gillespie said that zoning changes should be made by 2/3 of Town Meeting voters. And she asked the Planning Board and Historical Commission to share some changes they are working on to give dependable zoning to attract good development.
Planning Board's Jesse Stein explained that they are looking into overlay district zoing. The Town Planner has been charged with researching the bylaw to allowing businesses with failed septic systems to remain in town. She will also be working with Historical on their proposal.
Historical's Michael Weishan said they have been working on a new bylaw to allow "adaptive reuse" of historical buildings – it would cover structures like Fayville Hall.
Gillespie followed that they are welcoming input from everyone on the proposed zoning changes, including the development community.
In pointing to bad uses of the Use Variance, Gillespie highlighted Park Central. Bartolini argued that removing Use Variance is irrelevant to Park Central. Changing the bylaw won't prevent another large 40B project.
[Editor's Note: That's an argument that people who have been following the Park Central saga know isn't on point. 139 of the homes at the site were approved under a Use Variance. And it was the Use Variance that was used to waive the Planning Board's oversight of many details related to the project and its egress.]
Both Bartolini and ZBA Chair Andrew Dennington pointed to the saving of the Burnett House as an example of the good Use Variances can do. Dennington furthered that the conditions the board is able to place on Use Variances is another reason to allow the board the flexibility.
Weishan said the Use Variance for the Burnett House was a bad example. The ZBA's imposed conditions were seemingly based on likes/dislikes of those who voted that day. Those include the restriction against allowing weddings, serving alcohol, and only selling antiques to guests staying at the B&B. He told the public the Town was lucky that the process didn't force the owner to walk away. Historical is looking to codify preservation of historical structures to be more transparent.
Gillespie argued that making changes to zoning that voters approve is the right way to move ahead. And co-proponent Jack Barron urged that the change would protect committee volunteers who shouldn't bear the burden of making these decisions residents love or hate.
Barron said that it was time for voters to step up and take responsibility. Appparently, 95% of voters there agreed.
*I may have been wrong earlier about it as the biggest draw. While the vote in favor of Article 6 had the widest margin, and several voters clearly left afterwards – more left before the vote than I realized. (The overflow room kept filling in seats and the back of the room.) 131 more residents voted on Article 4 than Article 6. Even fewer participated in the night's final vote at 11:30 pm.
There's no way to know how many came in support of a later article, but just weren't able to stay through the late night meeting. (Anyone with children in the babysitting room certainly had cause to go home before the 10:30 vote on Article 6.)
**Gillespie's full presentation preceded Bartolini's. I interspersed their arguments to make their juxtaposing positions clear. It wasn't actually a debate. (Though, that would have been interesting.)
Updated (10/20/16 8:20 am): In reflecting last night, I realized that I forgot two important points that Bartolini made. One was addressed by Gillespie, but the other I don't believe was.
As an example of Use Variance put to good use, Bartolini pointed to Southborough Crossing (at the old White's Corner). She said that the Town's zoning doesn't allow for mixed business use. (Which calls to mind the past controversy over the Town's battle with Gulbankian's – another property owner that was seeking mixed business use.) It's not an issue covered by the two proposed zoning bylaw changes.
Bartolini also said that Use Variance allows the Town to deal with unforeseen uses that could arise in the future. Opponents rebutted that it's OK to miss those opportunities to wait for Town Meeting to address them. Residents don't necessarily want new uses that we haven't imagined.