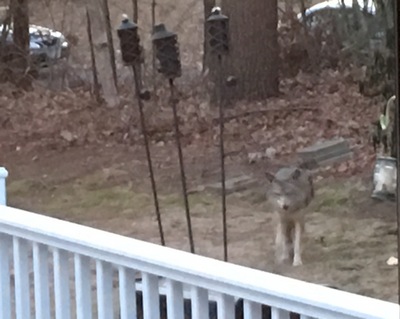 It's time for another open thread. What's on your mind this week, Southborough?
For those of you new to the blog, the open discussion thread is your place to ask questions, sound off on town issues, or share information with other readers. Here are some suggestions to get you started:
Ask questions about programs in town or the town itself
Post a note about things that you're selling or giving away, or things that you want
Share notices about upcoming events (Southborough or otherwise)
Register your thoughts on town issues or news stories
Point out interesting or helpful resources
You can add comments to the thread throughout the week. Check back often to see new comments. (If you read the blog via email or RSS, you might want to check the site from time to time for new comments.)
I'll get the ball rolling by talking coyotes.
A reader shared images last week from a backyard in Powdermill Lane. (The coyotes came close to the house but quickly ran off when shooed away.) Another reader all the way across town on Overlook reported a similar sight a few days later. (The animals were so large, she actually wondered if they were wolves.)
So, anyone else seen them around town?
Click the thumbnails below to enlarge:
To view past open discussion threads, click here.