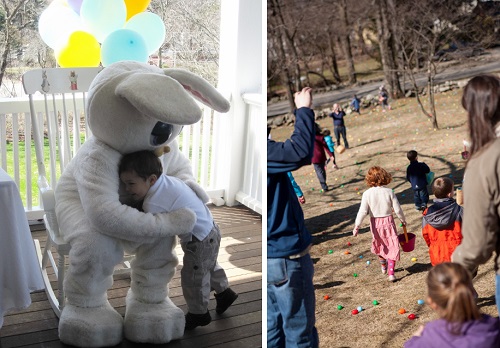 Here are highlights of what's happening around town this weekend.
Saturday, April 15, 2017
Easter Egg Hunt (10:30 – 11:30 am) @ Community House: Southborough Kindergroup's annual egg hunt. This year, the fee is $5/child or $10/per family – with proceeds to help rebuild the Fayville playground on Central Street. Payment will be "at the door", so no pre-registration is necessary. Families should bring their own baskets so kids can collect "eggs" with candy inside. The event begins at 10:30 am for posing with the Easter Bunny. (Be sure to bring your camera for a snapshot!) The "hunt" begins promptly at 11:00 am. For details, see dedicated post.
Music with David Garden (11:00 am) @ Southborough Library, Children's Room: David Garden from Music Together will be at the library with music that's just right for toddlers and preschoolers. All are welcome to dance and sing along! Drop-in, no registration required.
Sunday, April 15, 2017
Sunrise Service (6:30 am) @ Hopkinton State Park: The United Parishes of Southborough will be holding their annual sunrise service in the marina area.
Easter Service (11:00 am) @ The First Community Church, 137 Southville Road: The church is inviting everyone to join them for the morning service.
(For information on other churches, click here.)