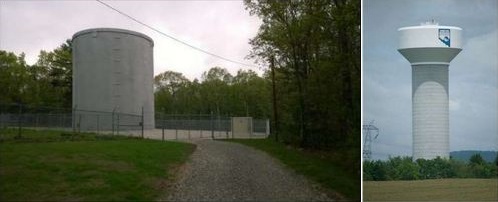 Last week, a story I wrote shared that the Public Works Planning Board recommended siting a water tower at Park Central. That was inaccurate.
The Chair of the Public Works Planning Board reached out to me to set the record straight. My original story on the Town's Public Participation policy include a 2nd hand recap of controversy over a potential water tower at Fairview Hill.
The biggest discrepancy was the board's vote. The recommendation to selectmen was more complicated than I perceived.
According to Chair Jamie Hellen, members didn't recommend siting the tower at Park Central. But that doesn't mean that they urged siting the tower at Fairview Hill. Instead, the board parsed their words in consideration of residents.
PWPB members unanimously supported the consultants' findings that Fairview Hill is the "most advantageous site". But they qualified that, recommending selectmen look into on Park Central as an alternative site. The letter was clear that the only reason for requesting that "due diligence" was the overwhelming opposition of Fairview Hill neighbors to the consultant's preferred location.
You can open the pdf of the full report with preceding letter here. (Or for a quick look at just the letter, click on the image right.)
As for the rest of the controversy – Hellen refutes claims that residents weren't well notified of their meetings about the water tower. (That was one reason I was given by a reader for residents' anger at a meeting.)
The chair asserts that abutters were told in the fall that they wouldn't be mailed letters about future meetings. Anyone who wanted to keep posted was advised to contact Public Works Superintendent Karen Galligan to be on an email list and to keep checking the Town's website.
Hellen furthered that some residents were in contact with the Town. The meetings were also posted well in advance. And starting at the March meeting, the board set future meeting dates in front of the public.