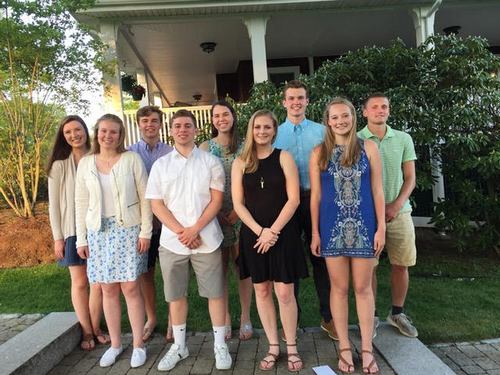 Last week, I shared news on Algonquin's graduation. Two other Southborough linked schools have held graduation ceremonies. (Scroll down for that.) And with most graduates planning to attend college, it's time to follow up on local scholarships.
Each year, the Southborough Gardeners offers a scholarship for a Southborough student majoring in a subject related to Horticulture, Floral Design, Environmental Studies, Ecology, Conservation, Agriculture, Botany, or Landscape Architecture/Design.
This year, they announced that the award was made to Ian Bourdon. He will be majoring in Biology at Rensselaer Polytechnic Institute:
Ian was chosen for the $2000 scholarship based on exemplary academic achievements, community service, leadership, and active interest and participation in Environmental Science and Agriculture. He is sure to make an impact at RPI and beyond!
In May, the Town of Southborough celebrated 30 years of awarding scholarships. With the addition of two other scholarships over the years, the Scholarship Advisory Committee has awarded $140,000 in scholarships since 1987. Awards were granted through three scholarship categories:
Southborough Town Scholarship takes into consideration academics, financial need, extracurricular activities, work and volunteer experiences, as well as written expression. This year, each of the following students were awarded $500: Caroline O'Rourke, Michelle Tremblay, Drew Cozzolino, Shelby Morrison, Lindsay Burzumato, and Dustin Branson, Caroline McAndrews.
The Capital Group Academic Scholarships (est. 2011) follows the above criteria, and is awarded to the two students with the highest academic standing. This year's awards of $1,250 were granted to Maggie Shatz* and Brendan Foley.
The Carroll Harris Memorial Scholarship (est. 1999 by the Southborough Youth Gymnastics Association) also follows the same criteria. But this award is reserved for a student who participates in gymnastics, or who plans to major in physical education, recreation or education, or who has demonstrated active participation in a town recreation program. This year, $1,000 was awarded to Dustin Hartnett.
The Southborough Rotary Club offers a four year scholarship to students attending a Massachusetts public college. This year's recipient was Sharon Kraft. She will be receiving $1,000 per year and attending Salem State University.
All of the above mentioned winners this year were from Algonquin's Class of 2017.
At the Rotary Club event to honor scholarship winners, awards were also granted to four "rising high school juniors". Those scholarships allow them to attend a 3-day leadership development conference.
The winners participating in this summer's Rotary Youth Leadership Awards will be: Elissa Gorman, Mia Barletta, Kaasinath Balagurunath, and Gunnar Vachris.
Assabet Valley Regional Technical High School held its graduation ceremony the weekend before last. Three of the graduates were Southborough residents: Amber L. Kirally, Matthew G. Leger, and Alexander L. O'Donnell. You can see photos from that ceremony here.
St. Mark's School held its Prize Day for graduating seniors last weekend. You can view more photos here.
*I want to give a special "shout out" to Maggie Shatz, who assisted me with MySouthborough social media posts for a good portion of her junior and senior years. Congratulations, thank you, and best of luck on a bright future.