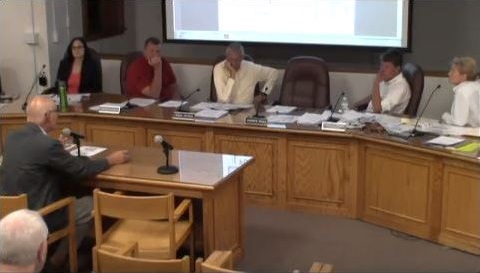 This week, David Parry publicly presented his plan to revisit removing utility poles from historic Main Street. Parry told the Planning Board that it's something Town Meeting voters should have a chance to decide.
The proponent has been seeking endorsements from groups like the Economic Development Committee before calling for a Special Town Meeting. He claimed to have 100% support from everyone he has approached (prior to Monday night). But he was unable to gain Planning's endorsement.
Planning Members said there were too many unknowns for them to ask voters to pay $60,000 of Town funds for a design plan.
Parry explained the Town would need to pay about that to National Grid for them to study the request and come back with a design and cost estimates. Once the Town had those details, they could find out if voters were willing to pay to see the plan through.
Parry, a former Town official* who resides at 22 Main Street, has long lobbied for ridding the area of utility poles. It's an expense that selectmen have rejected in the past with price tags in the range of $8 million for undergrounding utilities.
This time around, Parry stressed that his plan would relocate, not bury, utilities. (Though, one version of his plan proposes that "short" sections be undergrounded.) He said that would make the project costs much lower.
His updated plans would reroute utilities around the back of properties, avoiding poles from the Main Entrance of Fay School on Main to the intersection of Newton Street. On Monday night, Parry acknowledged that, if voters authorize it, National Grid would create its own plan which may be very different from his. But to demonstrate that it's feasible to do, he walked the board through two versions of his plan.
Parry claimed to have enthusiastic approval from owners of the few private properties that his plan would have poles cross through. And, he furthered that the Director of Fay School was so supportive of the plan that he offered allowing them to cross through the yard of either of the houses the school owns on Middle Road.
Parry's hand-drawn diagram proposed bringing utility poles from Boston Road behind Mauro's Market to Park Street. (Red dots in the image right are the proposed path for "new poles".)
Parry said coincidentally 20-100 massive dead trees are being cut down at Woodward: "it opens up the opportunity to put the lines on Woodward property and through the wood because the dead trees have been cut." In other areas of his plan, Parry referred to the poles as disappearing in the trees.
Planning Member Meme Lutrell asked if National Grid would have an issue with utility poles in the trees, as they try to prune branches away from utilities. Parry didn't directly address that. Instead, he responded that NGrid would be obligated to come up with a working plan for moving the utility poles if the Town solicits and pays for it.
Acknowledging that some undergrounding was required by his plan, Parry said there may be a less expensive alternative.
The proponent explained that he developed the maps below after Fay School's Business Manager pointed him to a route that could avoid a problem area by the Burnett Cemetery. (He said that the east side of the project would remain the same as he previously presented. Changes are on the west side.)
Parry assured the public that the plan would not slow down construction of Main Street. It would run in parallel. His plan was to convene a Special Town Meeting to get the design funds. He didn't specify when – but his intent was to have results back in time to bring to Annual Town Meeting next April.
Parry encouraged anyone interested in plan details to attend the next meeting of the Main Street Design Working Group. He intends to present his plan there and get feedback from the Town's engineering consultants. That is currently scheduled for July 11th, 7:00 pm at Cordaville Hall, 9 Cordaville Rd.
(Until then, you can click here to see his presentation to Planning.)
*Parry is a former member of the Board of Selectmen and Planning Board among other committees.
Updated (6/29/17 8:06 am): David Parry asked me to share updated versions of his maps above. (I'm also leaving the originals in as they were the ones he is referring to if you watch the Planning Board meeting from Monday night.) His updated versions are below: