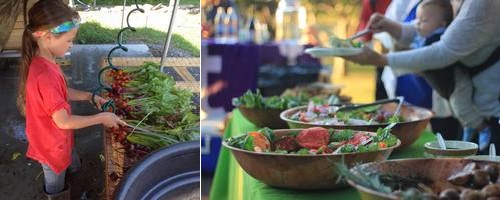 Southborough's Chestnut Hill Farm is holding a slew of programs this summer. (That's in addition to the CSA programs already in progress and weekly Farm Stand hours.)
Family friendly programs cover a range of ages. All of the following program, run by The Trustees of Reservations, take place at 7 Chestnut Hill Road.
Little Sprouts (weekly)
What: This year we've created a special place at the farm just for kids and we need the help of little hands to seed, sow, harvest, and grow. Bring your little sprout to the farm each week for a hands-on, immersive experience where they'll learn all about farming. Tending to a garden each week will help them develop skills such as seed starting, encouraging pollinators, soil health, pruning and harvesting, and even how to make yummy things from what they've grown!

When: Every Thursday in July & August (Starts July 6); 9:30-10:30AM

How: Pre-registration is not required, but encouraged

Price: Member: $5; Nonmember: $10 (adults are FREE)
Chestnut Hill's Friday Farm Dinners (monthly)
What: Come relax under the setting sun and enjoy a truly unique farm to table experience. From fresh vegetables and fruits, to local pasture raised meats and sustainable seafood, our partners will prepare each meal using the best ingredients available from our own and other local farms. Watch the season change with each meal and bring the whole family to enjoy the weekly harvests. A casual dinner set overlooking our lush fields will remind you to slow down and breathe in the summer's air. Enjoy a cold beverage while you play old-fashioned lawn games and listen to live music.

Ticket price includes the full dinner, non-alcoholic beverages (beer and wine will be available for purchase), dessert, games, music and all the fun you can handle!
When: 7/7, 8/4, 9/15; 6:30-8:30PM
How: Pre-registration is required by 3 days prior to the event

Price: Member: $36/adult, $12/kid; Nonmember: $45/adult, $15/kid
I received more details on the July 7th dinner:
Live music by the Railroad House Band. Menu right.
Meet the Farmer (monthly)
What: Meet the farmers who grow all of our delicious food! Desiree and the farm crew will be on-hand to answer all your questions about the CSA and vegetable operations. In addition to a basic meet and greet, each Saturday will feature educational and fun activities for kids and grown-ups. Checkout the theme for that day online.

When: 7/8, 8/5, 9/9; 10AM-Noon

How: Pre-registration is not required

Price: Member (and kids under 5): FREE; Nonmember: $5
Children's Nature Journaling
What: Sketching, writing, and drawing in a journal is a great way to improve children's observation skills, help them gain an interest in science and the environment, and it's a wonderful way to relax during a busy summer. Journaling materials will be provided to each participant and staff will lead groups of kids and adults out onto the farm to find new places to explore and observe. This program is suitable for all ages with a focus on children ages 5-10.

When: 8/3, 8/24; 10:30-11:30AM

How: Pre-registration is required

Price: Member: $12; Nonmember: $20 (adults are FREE)
To register for a program, click here.
Updated (6/29/17 8:28 am): More details on Friday Farm Dinners.