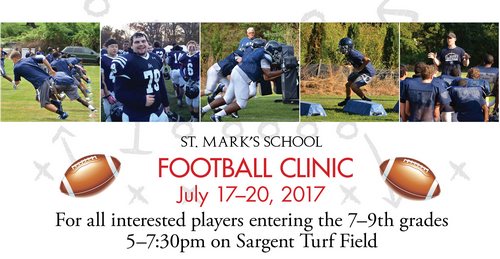 St. Mark's School is running a football clinic this summer. Their 5th youth clinic is geared to children entering grades 7-9. It will take place evenings the week of July 17th.
There is a $210 fee, but Head Football Coach Chris Young tells me that they will offer discounts or scholarships to families who qualify for reduced or free school lunch. (You can contact him at chrisyoung@stmarksschool.org or (508) 786-4052.)
The flyer pitches:
St. Mark's Football Clinic is an instructional clinic aimed at teaching fundamental technique and scheme to players entering 7th–9th grade. Campers will receive individualized skill instruction and will also have opportunities to drill full speed game scenarios and build conditioning for their upcoming season.

Each of the four day sessions will include a position specific skill instruction periods for both offensive and defensive positions, agility and speed drills, pass skelly and pass rush periods, as well as team schematic instruction. Two sessions will incorporate special teams skill instruction for kickers, punters, long-snappers, holders, and returners. The camp will culminate in a game format scrimmage.
The St. Mark's Clinic is staffed by coaches who have coached at all levels of college and high school football and we have a player to coach ratio of less that 8:1 to emphasize individualized instruction. A certified trainer will be on site for all sessions and the camp is a helmet and shoulder pads camp with minimal contact and an emphasis on form and technique.
The clinic runs from 5:00 – 7:30 pm Monday, July 17 to Thursday, July 20 on St. Mark's turf field, 25 Marlboro Road. For more details, click on the flyer.
To register for the clinic, click here.