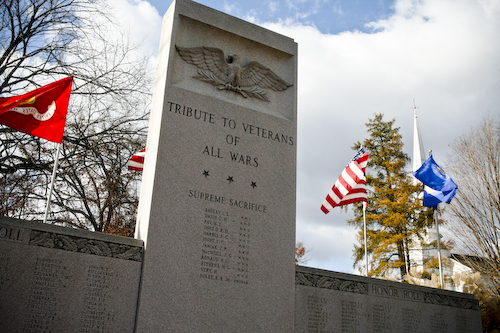 Yesterday, Southborough's Veteran Services Officer called attention to an important project that needs help from the community. He is asking for information on Southborough veterans – from veterans themselves or others who know/knew them. The focus is on veterans who served during the past 28 years.
Commander John Wilson is working to update the Town's memorial paying "Tribute to Veterans of All Wars." The announcement asks the community to submit names of US Military veterans that have yet to be engraved. The deadline for submitting names is August 31st.
The statement explains the criteria for inclusion. It also included a list of the names he has already collected – you can see that here.
Here is the announcement:
Dear Southborough Residents:

For several years, I have been gathering the records of Southborough veterans whose names should be engraved on the "All Wars Memorial' on the Town Common for their active duty military service since August 2, 1990. Engraving these names on this monument is one small way for our Town to show its deep appreciation for the service rendered to our country by our soldiers, sailors, airmen, marines and coast guard.

Already engraved on the monument are the names of Southborough natives who served in WWI, WWII, Korea and Vietnam. It is now long overdue to add the names of Southborough residents who have served in the active-duty military since August 1990.

Attached is a list of the personnel that has been gathered for engraving on the monument. There may be names that are missing. I am asking anyone who reads this to please notify me of anyone that they know who may be eligible and whose name is not on this list.

Eligibility is for any individual who was a member of the military as of August 2, 1990, received an honorable discharge and meets any of the criteria below:

entered the military as a resident of Southborough
was called to active duty as a resident of Southborough
was deployed as resident of Southborough
enrolled in a military academy or ROTC as a resident of Southborough and later entered military service upon graduation
Reserve or National Guard who served more than 90 consecutive days on Active Duty (excluding Active Duty for Training).

Persons submitting a name, should include the veteran's discharge form DD214, Certificate of Release or Discharge from Active Duty, or certificate that the person is currently serving on Active Duty. DEADLINE: Friday, August 31, 2018
If you have questions or information to submit, you can email jwilson@southboroughma.com; mail to John Wilson, Veterans Services, Town House, 17 Common St., Southborough, 01772; or call him at 508-229-2172 or 508-485-4059.