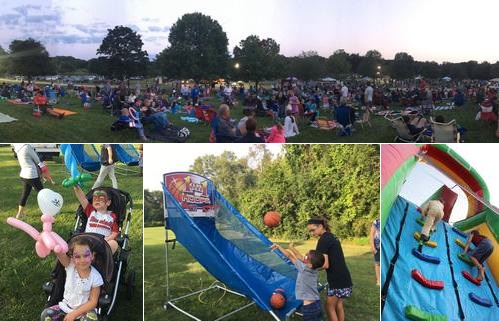 It's time to for an update on Southborough's summer end bash. The free festival Southborough Summer Nights will take place this Saturday, August 25th. (Or the next day if the weather doesn't cooperate.)
Unlike some festivals – Southborough's is free. There is no cost for admission and no fee for most activities. (Some exhibitors may charge a fee for an activity at a booth. But even the exhibitors are known for offering free fun and giveaways.
Still – you should bring your wallet. There are a slew of food vendors and trucks, and a few vendors.
The festival kicks off at 5:00 pm and ends with the big annual fireworks display after sunset.
I got confirmation on this year's fun. It will include a new attraction – 3 holes of mini golf. Returning free favorites will be:
Pony rides
Face Painting (by professionals)
Rock Climbing Wall
Inflatable Moon Bounces
The 65 ft inflatable obstacle courses
Video Arcade trailer
Photo Booth
Basketball shootouts
Balloon Twisting
ARHS Robotics will hold demonstrations on the Tennis Courts. (Some years, there is a fee for kids to try equipment out. I'm not sure if they will be fundraising again this year. If they do, their rates are always low and looking on is free.)
Food vendors already signed up include: Domino's Pizza, Yummy MummyBakery, Dean's Concessions (cotton candy, fried dough, fries, burgers, etc), The DogFather Truck, Yama Fuji, Southborough Firefighters Chili Stand, and Trombetta's Ice Cream.
If you enjoyed the band in the summer of 2015, you'll be happy to hear that Better Her Than Me will be returning to play live on the outdoor stage. (You can check out their sound on the Band's YouTube page.)
Atlas PyroVision Entertainment Group will be setting off the big fireworks display again this year.
Once again – if you haven't been, my Facebook album from last year gives you a taste of what you've been missing.