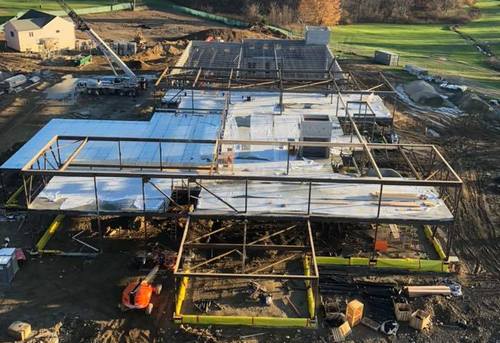 The Board of Selectmen agreed to a negotiated 10 extra unpaid days for contractors to finish the Public Safety Complex this summer. They also agreed to pay the $350K needed to construct carports for cruisers.
The decisions were made at last Monday's Board of Selectmen meeting, according to Southborough Wicked Local. The article reports:
The town has negotiated with the contractor of the new combined police and fire stations after the company wanted an extra month to complete its work.

Selectmen just before Thanksgiving also agreed to ditch a plan to have a private company install solar canopies for police cruiser carports on the property.

After a series of letters between the general contractor and the town's project manager, the town gave the contractor an extra six working days or 10 days total, according to Jason Malinowski, chairman of the Public Safety Building Committee. . .

CTA Construction of Waltham now has until July 10 to complete the project.

The town hoped to work with a company to lease space to build the solar carports, but after two rounds of bids no companies returned bids.
For full article, click here.
The decisions were made following the latest update out of the Public Safety Building Committee. (You can view that via Southborough Access Media video here.)
Four days prior, the committee released its latest monthly newsletter update by the Owner's Project Manager. That recapped progress through the end of October. (You can open it here.) According the newsletter, the project was at 25% completion. The update indicated parties were in process of talking through schedule delay requests.
Since I never posted the September report, I'm sharing that link here as well.
For more pictures of the project progress, check the Southborough Fire Department Facebook page.