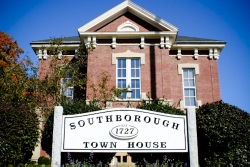 Here is a selection of the committee and board meetings for the week along with my selected highlights from the agendas. Unless otherwise noted these meetings are open to the public, so you're welcome to stop on by.
Note: If you are looking below for the anticipated February 5th Board of Selectmen meeting, you won't find it.
The BOS originally planned to hold a pre-Town Meeting run-through this Tuesday night with the Moderator. Town Administrator Mark Purple explained that they are currently looking for another night that works – likely next week. So, stay tuned for news on that.
Now here's what is currently posted:
As always, be aware that changes to the meeting schedule are known to happen throughout the week. For an updated list of meetings, visit the town website.
Monday, February 4, 2019
Tuesday, February 5, 2019
Wednesday, February 6, 2019
Thursday, February 7, 2019
Friday, February 8, 2019
*Southborough Access Media will broadcast the Public Safety meeting live on Verizon-37 and Charter-192. Click here to see this week's schedule with rebroadcast times. (Videos are also usually made available through their YouTube channel by the following morning.)
Updated (2/4/19 12:00 pm): I didn't initially share a meeting for the EDC, since no agenda is posted yet. But, working on my "events" highlights for this week reminded me that the committee is holding a public forum on Thursday night.