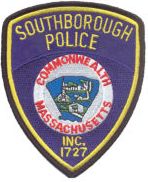 If you came across a story that was posted on Metrowest Daily News, you may have (like me) mistakenly assumed that another armed robbery occurred in town yesterday. In fact, the story was referring to a search for a suspect in a previous crime.
Yesterday's MWDN story alerted:
Police are searching for a suspect wanted in connection with an armed robbery in town today.

According to public safety broadcasts, the suspect failed to stop for police on Rte. 9 east about 6:30 p.m. He was last seen heading into Framingham in a black sedan. Police said the man should be considered armed and dangerous.
Today, Chief Kenneth Paulhus clarified that the Town is still working with neighboring towns on a case that involves the December 30th robbery. That took place at the Gulf Express on Route 9 East, 344 Turnpike Road (near Madison Place). (So, I take it that "today" referred to the search, not the robbery.)
On December 31st, the Department notified the public about the incident that took place the previous night at the gas station. The statement included:
A review of surveillance footage shows two males entering the business wearing ski masks, gloves, and dark clothing. One was armed with a handgun, and the other with a metal bar. The thirty-seven year old male clerk was shoved to the ground by one of the males who cleaned out the register drawer. He offered no resistance, and was not injured. A yet to be determined amount of cash was taken before the suspects fled eastbound in a vehicle.
As for the current status – the department hopes to have news to share on an arrest warrant soon, perhaps even by the end of today. Stay tuned for an update.