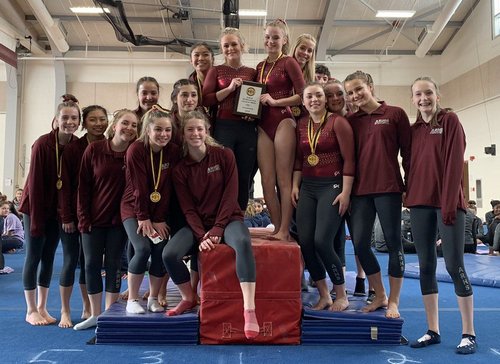 ARHS Gymnasts must be flying high. They joined Algonquin's list of 2019 League Champions. On Saturday, the team earned the Mid-Wach League Championship title. Now the team will focus on preparing for the sectional tournament they're hosting on February 23.
The Telegram covered Saturday's big win:
The host Tomahawks took first place in all four events, as Bryn Coghlin took first place in uneven bars (8.9) and balance beam (9.2), Sarah Middleton claimed the floor exercise (9.25), and Tessa McAndrews won the vault, as the Tomahawks posted a team score of 145.8. . .

Of the top 12 finishers in the four events, Algonquin claimed nine of those spots, and will look to carry its momentum into the South Sectional Championship. . .

Tomahawks also claimed the top two spots in all-around, won by freshman Lizzy Debroczy's 38.55. Fellow frosh Mia Gorman placed second at 36.00, while Hudson's Casey Cox was third at 34.95.

Debroczy said some time off during the season paid dividends for her on Saturday.

"I'm very excited," she said. "I took a month off because my knees have been in a lot of pain. To be able to come back out and put on a performance is really exciting."
Click here for the full story.
The T-Hawk Gymnasts will hope to do well enough at Sectionals to still be in it when they host States in March.
Several, ARHS runners are already on their way to State tournaments this Thursday. The Boys and Girls Indoor Track teams competed in their District sectionals Saturday. It was the last chance for runners to qualify for States. A whole lot of team members apparently passed the hurdle. At the front of the pack were nine District Champions:
For the 1000m run – Tess Reyes
For the 4 x 800m relay – Will Lamburn, Nick Haugen, Nick West, and Jon Symons
For the 4 x 200m relay – Day Ruffo, Danielle Defeudis, Grace Madden, and Christina Defeudis
The state tourney will take place this Friday at the Reggie Lewis Center.
They aren't the only State bound athletes out of the school. As a team, Gonk Wrestling only ranked 6th out of 13 at the MIAA D2 Central Sectional Tournament. But five of their wrestlers qualified to compete at this Friday's D2 State Tournament with hopes to continue to All States.
Two of those are Sectional Champs for their weight classes, Shea Garand and Andrew Goddard. Garand's title win followed another accomplishment on the mats that day – his 100th career win. Also heading to States are Tim Goddard (2nd place) and Andre Hird and John Fontecchio (with 4th place wins).
The team tweeted several videos. Below are the sectional winning pins for Garand and Goddard:
Shea Garand gets a 1st period pin to win the Sectional title! (220) pic.twitter.com/kGFsZJWtLV

— Algonquin Wrestling (@ARHSW) February 9, 2019
Andrew Goddard wins his sectional title
Andrew Goddard with a 1st period pin to win the 160 sectional title! pic.twitter.com/QeiOFOWQdO

— Algonquin Wrestling (@ARHSW) February 9, 2019
For more videos, check out their twitter feed.
I've previously posted about Algonquin's Swim and Dive teams' undefeated season. As teams, they failed to finish first in yesterday's Central/West Sectionals. The Boys team placed 7th out of 28 and the Girls only came in at 15 out of 26. Still, they have members they can boast about, especially the following:
Lizzie Meschisen won 1st place for Women 1 meter Diving
Ray Cerro came in 2nd place for the Boys 50 Yard and 3rd in the Boys 100 Yard Butterfly
It looks like several members from each team qualified to compete at States this weekend. You can find the psych sheets here.
Basketball and Hockey are still playing through their regular seasons. Now, here are the ARHS varsity competitions on tap so far this week:
(To find a complete schedule of Algonquin sports, including JV, freshmen, and unified match ups, click here. Follow these links for the Assabet sports schedule and the St. Mark's sports schedule.)
Have a photo of your favorite team in action to share? Email mysouthborough@gmail.com.
Tuesday, February 12, 2019
7:00 pm – ARHS Girls Basketball vs. Fitchburg @ Algonquin
7:00 pm – ARHS Boys Basketball vs. Fitchburg @ Fitchburg High School
Wednesday, February 13, 2019
7:00 pm – ARHS Boys Ice Hockey vs. Groton-Dunstable Regional @ Groton School
Thursday, February 14, 2019
3:00 pm – ARHS Alpine Ski Race vs. TBA @ Ski Ward Ski Area (Fun Race)
7:00 pm – ARHS Girls Basketball vs. Worcester North @ Algonquin
Friday, February 15, 2019
4:00 pm – ARHS Wrestling Division II State Tournament @ Beverly High School*
4:30 pm – ARHS Boys Indoor Track D2 State Championships Tournament @ Reggie Lewis Track Center
4:30 pm – ARHS Girls Indoor Track D2 State Championships Tournament vs. TBA @ Reggie Lewis Track Center
7:00 pm – ARHS Boys Basketball vs. St. John's @ Algonquin
Saturday, February 16, 2019
2:00 pm – ARHS Girls Swimming and Diving D1 State Championship Tournament @ Boston University
2:00 pm – ARHS Boys Swimming D1 State Championship Tournament @ Boston University
6:00 pm – ARHS Girls Ice Hockey vs. Auburn @ Horgan Skating Arena
6:00 pm – ARHS Boys Ice Hockey vs. Westborough High School @ North Star Ice Sports, Westborough
Sunday, February 17, 2019
TBD – ARHS Girls Basketball Tournament vs. Westborough High School @ Westborough High School
*The ARHS Athletics schedule omitted the state tournament for Wrestling and listed Girls Track as on Sunday. I edited the schedule based on the tournament information posted to the MIAA website.
Updated (2/14/19 11:50 am): The State Tournament information for swimming was posted, so I inserted it above. The school website did fix the listing for the Girls Indoor Track tournament to be the same as I listed above. It still isn't showing Wrestling, but the posted brackets confirm that team members will be competing on Friday.