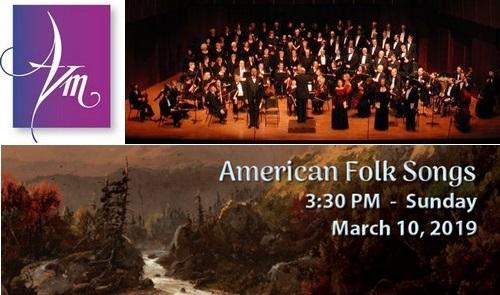 The Assabet Valley Mastersingers – a choral group with members from Southborough, Northborough, Marlborough, Hudson, Shrewsbury, Westborough and surrounding communities – will "showcase a stirring array of American Folk Songs" at St. Mark's School on Sunday, March 10 at 3:30 pm.
Concert tickets may be purchased for $25pp or $20 for students/senior citizens through the AVM website. Or for $3 off, purchase them in advance from one of 7 local businesses. In Southborough, they're being sold at English Garden Florist on Main Street. (Click image right for full list.)
Due to limited parking at St. Mark's, additional parking will be available just down the street at Woodward School (28 Cordaville Rd) with free shuttles to and from the concert.
Large print programs will be offered to those desiring enhanced readability. (You can also preview the program and notes on the AVM website.)
Here is more information from AVM on the performance and selection:
The program will include both sets of Aaron Copland's Old American Songs; Gwyneth Walker's River Songs, commissioned by AVM in 1996; and four compelling folk song arrangements by Mack Wilberg for the Mormon Tabernacle Choir. AVM Artistic Director & Founder Robert P. Eaton will conduct the 3:30 pm concert with accompaniment by two pianos and percussion and with three vocal soloists selected from the chorus.
Partial funding for the concert was provided by the Massachusetts Cultural Council (through Arts Councils in Southborough, Ashland, Boylston, Grafton, Hudson, Marlborough, Northborough, Shrewsbury, and Westborough).
For more information, visit www.avmsingers.org.