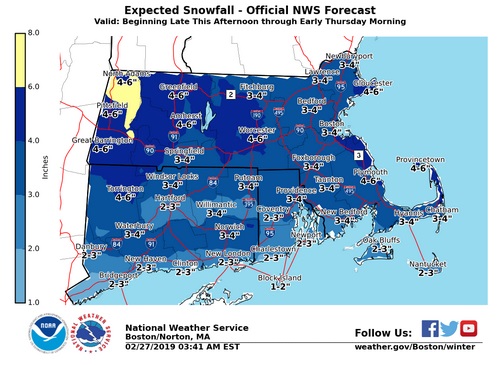 Update (2/27/19 6:08 pm): Southborough Emergency Management updates that the snowfall is likely to be larger than initially forecast and continue a little later. But it should also be fluffy, making for easy removal.
Lt. Neal Aspesi writes:
The NWS has slightly raised the snow total forecast for the system that will impact us mainly overnight to between 4-6". The increase is mostly based on more cold air resulting in fluffier snow.

Snow in our area is suspected to being around 5:00/6:00pm and end around 7:00am with the heaviest snow falling between 10:00pm and 4:00am. "Heaviest" is a relative term, as snowfall rates will remain less than 1" per hour.

There could be some impacts to the Thursday (tomorrow) morning driving and walking commute, all depending on when the snow ends and the amount we get.

Temperatures will remain below freezing Thursday, with light winds.

Attached is the snow total estimation from the NWS – as always this IS NOT an official forecast, only to assist in decision making.

BE SMART, BE SAFE.
———————–
Southborough is predicted to get more than a dusting of snow tonight, but not a major storm. It could impact the evening commute – but most likely fall steadily at the tail end of it.
An NWS map puts Southborough in a likely band of 3-4″ of snow overnight. A text forecast gives leeway for us to get up to 5″. Luckily, the big, gusting winds that blew through this week aren't expected to return. Plus, no freezing rain or sleet are forecast to mess the roads. (Though a little intermixing rain is slightly possible.)
There is a slight chance of snow hitting this afternoon, with likelihood increasing into the evening. A map shows the steadiest portion is likely to begin around 7:00 pm and end by 5:00 am tomorrow.
Below are more hourly details:
The forecasts are as of earlier this morning. For updates, you can check NWS' website here and Facebook posts here.