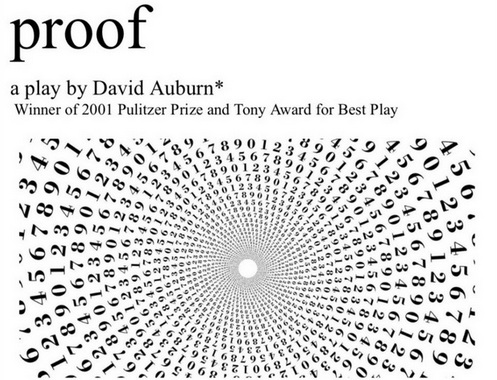 This weekend, Algonquin is hosting another theater performance. In contrast to the glitzy musical production of Chicago last fall, the Winter play is an intimate drama with a cast of four. Fittingly, it's performed in the the school's "small performance theater".
The school's production of the award winning play "Proof" premiered last night. Today, it will be part of a mini drama festival the school is hosting as part of the Mass Educational Theater Guild's secondary school competition's preliminary round. The performers will showcase the production for students from Dennis-Yarmouth and Ayer-Shirley High Schools and view their work.
The final public performance is this Saturday, March 2nd, at 7:00 pm in the Black Box.
Tickets will go on sale for the general public at the Box Office tomorrow at 6:00 pm. The cost is $5/student and $10/adult. The school warns that it may be too mature for "younger audiences".
On its school blog, the Fine & Performing Arts department shared:
Algonquin presents, Proof by David Auburn. Proof tells the story of a young woman dealing with the loss of her father, a brilliant mathematician, who suffered from schizophrenia and her experiences dealing with her own brilliant mind and the frightening possibility of following too closely in her father's footsteps. The story is a great combination of humor and sincerity that highlights real life issues including relationships and coping with loss and uncertainty. The cast has been working very hard to meet the challenge. There are some mature moments including language use and drinking, which may not be suitable for younger audiences.

Additionally, we will be having talk-backs with the cast after each school performance so that audience members can hear about the cast's experience working on the show. This has been a very entertaining and educational experience for all involved and we hope to see you there!
As I previously shared, the Community Advocate covered the production plans. This week, the school paper tweeted a story it featured on its website here.
Small cast takes on big topics in the winter play 'Proof,' this Thursday and Saturday nights in Algonquin's Black Box https://t.co/SlhVACDsJX pic.twitter.com/qSFQwWpZfp

— The Harbinger (@ARHSHarby) February 27, 2019
The story identifies the pictured cast as seniors Joe Gordon, Annalise Loizeaux, Nick Hatton and Katherine Moffa.