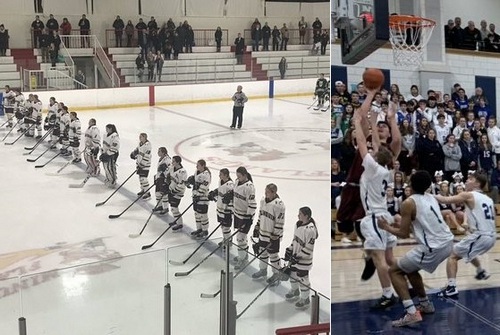 Algonquin athletes are scheduled for several post season competitions this weekend. Unfortunately, winter weather is already begining to impact some schedules. So be on the look out for changes. (Scroll down to the bottom for that.)*
Earlier this week, I posted that two Algonquin skiers were headed to their state championship on Wednesday. I was wrong. Three actually competed in the Girls Alpine Championship: Luciana Postizzi, Kaitlyn Desio, and Rudy Utzschneider.
None of them made the top ten, but all three made the Telegram's photo coverage. A telegram photographer tweeted his album here:
Photo Gallery: State high school alpine #skiing championship at @wachusett @MIAA033 @sjshrewsbury @nashobaAD @ARHSAthletics @WachusettAD @WestboroRangers
https://t.co/e7XyHaoIN9

— Rick Cinclair (@RickCinclair) February 28, 2019
That night, T-Hawks Girls Ice Hockey played the preliminary round in the State tournament. (Note: I knew that the team included Hudson players. But I was surprised to see Marlborough Panthers showing them love on twitter. The team's twitter confirms that the "Algonquin" team also includes players from Hudson, Marlborough and Nashoba high schools.)
Unsurprisingly, the 11th seed Girls dominated 21st seed Ursuline. The ARHS Harbinger writes:
Calling the T-Hawks girls' hockey team's first round playoff game against Ursuline Academy electric would be selling it short. The fast-paced game was a masterclass performance from the T-Hawks as they went on to win 7-1, showing that they have what it takes to dominate throughout the postseason.
This weekend they'll have to face 6th seed Bishop Stang in the First Round. That's scheduled for Sunday, March 3, 6:15 pm on at the Canton Ice House.
The real nail-biter this week was Gonk Boys Basketball. They were the lower seed team entering their first post season game last night. Southborough Wicked Local writes:
In a rematch of last year's Division 1 Central Final, the Algonquin boys basketball team was able to get their revenge, thanks to some clutch shooting down the stretch, defeating Franklin 63-60 in the Division 1 Central quarterfinal Thursday night. . .

Algonquin will now face Wachusett – which hung on to beat a scrappy Framingham squad 54-51 Thursday night – Sunday at WPI at 3 p.m. in the Div. 1 Central semifinal. The Mountaineers are the only team to have beaten Algonquin twice this season.

"It doesn't matter," [Coach] Doherty said. "It's just another game. It doesn't matter how many times you get us, you still have to strap 'em up and be ready to go. We'll be good."
T-Hawks Boys Ice Hockey is still waiting to play in their Central Mass Quarterfinals. The 3rd seed team is scheduled to play 6th seed Auburn tomorrow, 7:10 pm at the NorthStar rink. If they win, they'll take on 2nd seed Wachusett for the Semi-Finals next week.
As I previously posted, also on deck for big competitions this weekend are wrestlers, a runner, gymnastics, and cheer. You can read those details in Monday's post.
*Weather impacts:
Despite what the groundhog supposedly saw last month, winter is technically through March 20th. And this weekend's forcast shows the season's still in swing.
Saturday morning tournaments already are posted as delayed. Gymnastics's start is shifting from 1:00 pm to 5:00 pm. New England Wrestling is also "delayed" on Saturday to begin at 10:00 am. (But that only matters if ARHS successfully wrestles its way through today's brackets.) And NE Track's schedule has shifted to have events begin at 3:00 pm.
Those competitions and others still have the potential to change based on storms this weekend. Currently, snow is forecast to begin tonight and end sometime tomorrow early afternoon. A little may revisit late Saturday night and a big snow is set to begin on Sunday night. That's currently most likely in our area in the late evening – but that could change. (Plus, changes could be made based on the weather for where competitions are taking place or competitors are coming from.)
Before you head out to root on your favorite Gonk athletes this weekend, you'll want to double check on tournament associations' sites that there haven't been more schedule changes:
Click here for changes to Hockey, Basketball, and Gymnastics
Click here for changes to Wrestling and Indoor Track
Click here for changes to Cheer competitions