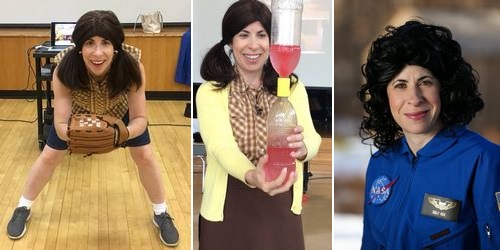 The Southborough Historical Society is continuing its "Voices Found" speaker series inviting the public to meet "Women in History". Next up is Sally Ride.
The performer portraying the first female U.S. astronaut is historical performer Sheryl Faye.
Faye developed her program around the inspirational role model Ride presents to children (especially girls). So, it's natural that SHS is timing this presentation to encourage a younger audience.
(Though, the event is also appropriate for teens and adults.)
The event will be held at the Southborough Historical Museum, this Saturday, March 9th at 2:00 pm.
The interactive talk is free for the public (though donations are welcome.) Because attendance is limited, attendees are required to pre-register. (Click here to sign up.)
Based on the images the performer posted to Facebook, it appears attendees get to witness Sally Ride growing up. Her website describes a fun program that includes experiments:
Sally Ride is glued to the classroom television as astronaut John Glenn blasts off into space. "I want to do that," she quietly says to herself, only to be reminded that girls can't be astronauts. They can't be shortstop for the LA Dodgers either, another early aspiration, and she soon sets her sights on tennis, learning teamwork and good sportsmanship.

Her insatiable curiosity leads to a passion for science, and children will join in Sally's discoveries through fun, interactive experiments, all of which they can do again at home. As she matures, she studies the wonders of the universe and finally, when girls can, she becomes America's first woman astronaut and a passionate advocate for STEM. Her compelling story will ignite students' curiosity and inspire them to dream, dare and develop their own gifts and talents to the fullest.
A 2nd grade teacher reviewed:
The children learned so much from your presentation and it was super engaging. The children were glued to your every word.

The message you sent that everyone can be a scientist regardless of your sex or interest was powerful. You asked the children what were some of their interests. You said "if you like make up, you could be a make up scientist". This debunked the myth that scientists can only work in a lab finding obscure cures for illnesses. Your message that everyone can be a scientist (whatever your passion may be) resonates with our current educational push and need for STEM instruction in the classroom.
If you're interested in the series, you may also want to save the date for the final historical performance this spring – "Meet Martha Washington". That will take place April 4th at 7:00 pm. (Stay tuned for sign up information on that one.)