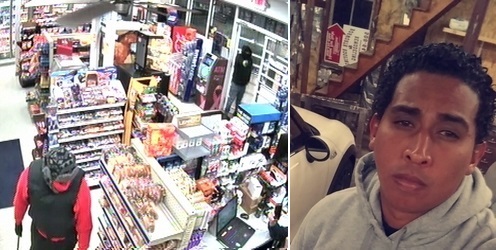 Southborough Police issued an update from a December armed robbery. It states that one of two suspects in the crime was arrested, but another previously announced suspect is still at large.
The SPD is continuing to look for Orlando Gonzalez. They have previously characterized him as possibly armed and dangerous. They are telling the public that callers can provide anonymous tips.
Last month, I shared news that the SPD was seeking suspect alleged to have been involved in the armed robbery of the Gulf Express on Route 9 East. At the time, the second person involved remained unidentified. Today, SPD updated that they made an arrest but that the original suspect still hasn't been apprehended.

Following the robbery, Southborough worked with other Towns and the State police on the investigation. In February, news broke of a related police search. The following day, the SPD issued confirmation and an arrest warrant for Gonzalez. Today's announcement confirmed they are still seeking help and referred to the February 8th announcement.
At that time, the SPD had shared a picture from Facebook linked to a post by Lando Gonzalez. (Click thumbnail right to enlarge.)
The crime allegedly involved a handgun, and last month, police characterized the wanted man as "possibly armed and dangerous". But neither release specifies which suspect is believed to have wielded a gun vs the crowbar.
Here is today's redacted statement:
On, 3/7/2019, Detective Keith Nichols (assisted by the MA State Police, Middlesex Sheriff's Office, and Worcester P.D.), served an arrest warrant on [a Worcester man]. He has been charged with ROBBERY, ARMED & MASKED 265/17/B, LARCENY FROM A BUILDING 266/20/A, and RECEIVING STOLEN PROPERTY 266/60/A, related to an armed robbery that occurred at the Gulf Gas Station, located at 344 Turnpike Road, on 12/30/2018. He was transported to the Worcester Police Department. He will be arraigned today in Westboro District Court.

An arrest warrant remains active for Mr. Orlando Gonzalez (age 33, whereabouts unknown) for the same charges related to the robbery. He is the brother of [the arrested man]. Anyone having information should use caution, and call their local police department or the State Police.

Detective Keith Nichols can be reached at the Southborough Police Department (774) 249-0355 or (508) 485-2121. Callers can remain anonymous.
Below are the other photos shared by the SPD, plus (from Facebook) a larger image version of the picture they shared of the suspect.