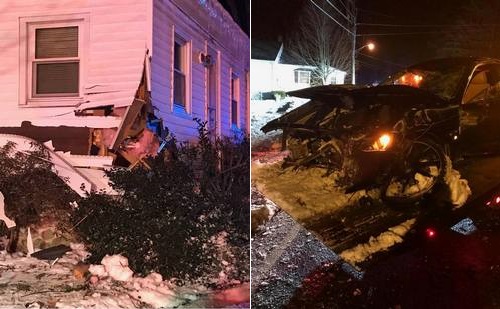 Southborough Police posted news of a disturbing accident early yesterday morning. The bad news is that a house was extensively damaged. The good news is that no one in the home was hurt and it seems that if the driver was at all injured, those injuries couldn't have been too severe.
The department shared the news of an arrest on Facebook yesterday:
Early this morning, [a Rockland man] was placed under arrest and charged with operating a motor vehicle under the influence; negligent operation of a motor vehicle; failure to stop or yield; speeding; marked lanes violation; and unsafe operation of a motor vehicle. [The arrested man's] 2011 Maserati left the roadway and struck the corner of a house on Cordaville Road, causing extensive damage to the home. No one inside the home was injured.
WCVB spoke to Chief Kenneth Paulhus for more details. According to the report, after the Maserati hit the home, it traveled across the driveway and into a tree.
Click on thumbnails below for photos cropped from images posted by the SPD:
The Channel 5 news posted:
"The evidence points to that he was operating at an extremely high rate of speed," [Paulhus] said.

[The accused] failed multiple field sobriety tests and was found to have evidence of marijuana in his possession, Paulhus said. He declined to be treated on scene. . .

The town's building inspector was on scene to assess the property's condition, but could not be reached immediately for comment.