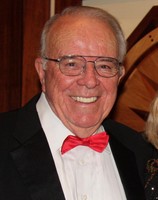 Robert N. Ashley, 84, of Punta Gorda, formerly of Southboro, MA, passed away on Thursday, February 14th after a long illness.
Born in 1934 in Natick, MA he was the son of the late Howard and Katherine (Schofield) Ashley. Growing up in Natick, Bob joined the US Army in 1953, where he served with honor as a Signal Operator in Hawaii until 1956. After discharge, Bob began his career with AT&T as a lineman, and later retiring in 1992 as an account executive. He was an attendee of Sacred Heart Catholic Church where he was an usher for many years.
An avid boater, Bob was a member of the Isles Yacht Club, Past Commodore of the Charlotte Harbor Yacht Club, and a member of the International Order of the Blue Gavel. Bob and his beloved wife, Frances, spent many days exploring the coast and inland waterways of Florida in their boat the Double Happiness, as well as taking numerous trips to Europe where he was able to see many of the amazing sights he had read about.
Bob will be greatly missed by his wife, Frances; children, Cheryl Ashley-Serafine, Lawrence Ashley, Robert Ashley, Sue Ashley, Meighan O'Toole, Maura O'Toole, and Michael O'Toole; nine grandchildren and six great-grandchildren; sister, Naomi Paquette, and brother Scott Ashley as well as many nieces and nephews and numerous friends. He was preceded in death by his daughter, Cynthia; brother, Howard Ashley; and sister, Judy Ashley.
A celebration of Bob's life will be held on Saturday, March 16 at 11:00 a.m. at Sacred Heart Church. In lieu of flowers, memorial donations may be made to Tidewell Hospice of Arcadia, FL or St. Vincent de Paul Society in Punta Gorda, FL. To express condolences to the family, please visit www.LTaylorFuneral.com and sign the online guestbook. Arrangements are by Larry Taylor Funeral and Cremation Services, Punta Gorda, FL.