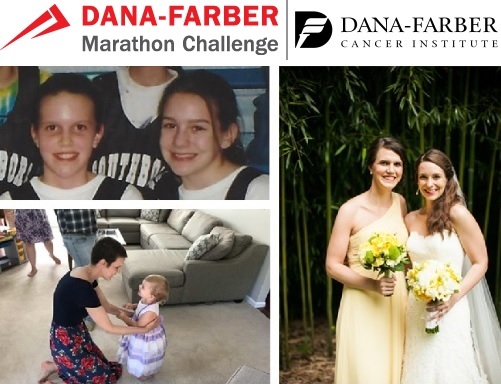 Southborough has always had an impressive showing at the Boston Marathon, and this year is no exception. Between now and Patriots Day, I'm featuring stories of resident runners donning bibs for a cause.
Some of Southborough's runners are supporting very personal causes. Stephanie Reeder Iodice.
Iodice is one of the runners in town supporting the Dana-Farber Cancer Institute. Her run is in honor of a late friend who grew up in town. She reached out to share her story:
I am running for the Dana-Farber team in honor and memory of the incredible Betsy (McDonald) Llanwarne.

Betsy and I were lifelong friends who grew up together here in Southborough. We played basketball together, were in the same girl scout troop, completed countless school projects and played and sang together in band and choir. We remained close into adulthood, and my husband and I were beyond honored when Betsy said yes to being godmother to our daughter, Isabelle! Just this past August, Isabelle was the flower girl at Betsy's beautiful wedding to her soulmate, Chris.

A little over 2 years ago, Betsy was diagnosed with a rare form of sarcoma and was treated at Dana-Farber. Throughout the entire arduous journey, the team at Dana-Farber showed a level of compassion and dedication that amazes me to this day. After a courageous fight, Betsy passed away late this October.

Betsy was truly one of the most incredible human beings I have ever had the honor to know – and everyone who knew her would say the same thing. Unfailing kind, hilarious, strong, quick-witted, humble – simply one-of-a-kind. While I originally signed up to run in her support, I now run to honor her memory and raise as much money as I possibly can to help Dana-Farber fight this terrible disease – cancer – that touches us all.
You can support her cause by visiting her fundraising page here.
[If you're running the Boston Marathon and would like to have your story featured, drop me a line at mysouthborough@gmail.com]