The Chateau in Westborough is helping The Friends of the Southborough Library raise funds. A week from today, 20% of participating patrons' total bills will be donated to the nonprofit.*
The offer is good for lunch or dinner (food and beverage) on Wednesday, April 3rd. It applies to both in-restaurant and take-out customers, but not to delivery orders. This year, they are "Going Green". That means you don't have to show them a flyer. (Though, I inserted on here with details for reference.)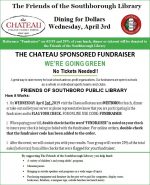 The restaurant just asks that for any online orders you use the code "FUNDRAISER". And in the restaurant, they ask you to verify that your check includes the code.
Reminder, funds raised by the Friends support programs for all ages and passes to many museums and venues.
If you aren't familiar with the Chateau, the Italian eatery is in Westborough, on Rte 30 right at the junction with Route 9. (Which means most of you should be able take a "back way" to avoid rush hour traffic.)
You can check out the Chateau's menu and restaurant details here.
*Note: The 20% applies to the "before tax" portion of the bill.