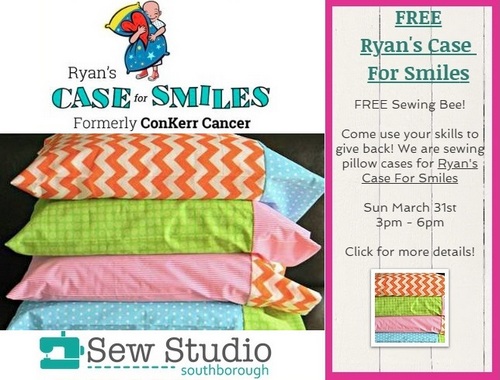 The public is invited to a free "Sewing Bee" to help bring cheer to children in the hospital. The event will support Ryan's Case for Smiles.
By making and sharing whimsical pillowcases, Ryan's Case for Smiles is giving children who are hospitalized an emotional boost and reminding them that they are not defined by their illness. Since 2007, thousands of volunteers in 120 chapters have distributed more than 1.9 million pillowcases to children in 362 hospitals.
Sew Studio Southborough is organizing an event in town this Sunday event to sew fun, colorful pillowcases to contribute. They asked me to help get the word out:
Join us and sew a pillowcase for Ryan's Case for Smiles! Each colorful pillowcase will help a child in the hospital feel better to heal better. You can even add a card or write a note. Ryan's Case for Smiles will give our pillowcases to kids at Boston Children's Hospital, Massachusetts General Hospital for Children, and other local hospitals.
Good news – you don't even have to know how to sew! Non-sewers can help with ironing at the event and/or donate material.
If you'd like to donate fabric:
Please choose fun, kid-friendly prints in 100% cotton (no flannel or glitter fabrics). Please pre-wash, dry and iron your fabric so it will be ready for cutting.
If you'd like to volunteer your time, please pre-register so that organizers can properly plan.
Or, if you'd like to whip up some cases on your own to donate, you can find the charity's instructions here. Just drop your donation off at the studio in time for them to include with their drop off.
The event is scheduled for Sunday, March 31 from 3:00 – 6:00 pm at their studio at 155 Boston Post Road.