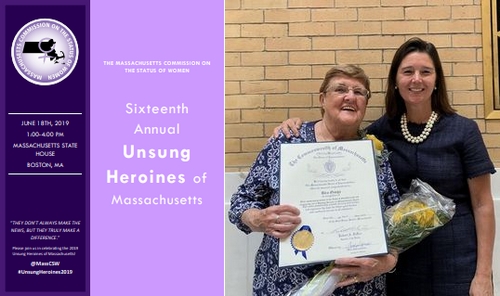 Every year, the state honors Unsung Heroines for their "outstanding contributions to their organizations and communities." This year, for the first time in six years, a Southborough resident was named.
Bea Ginga, called by some "the unofficial mayor of Southborough", was one of the 132 recipients honored at the state house yesterday.
The booklet from yesterday's ceremony explains what makes Ginga one of the 2019 Heroines:
Bertha "Bea" Ginga is a lifelong Southborough resident whose passion for community involvement makes her a deserving candidate for an Unsung Heroine Award. For decades, Bea has run the Southborough Village Society, a nonprofit that maintains and operates the historic Southborough Community House for local events. A breast cancer survior, Bea works to put on annual Relay for Life events at Algonquin High School to raise money for the American Cancer Society. As an active member of and advocate for Southborough's senior community, she often volunteers her time at the Senior Center and works to support improved and expanded senior programming. Bea frequently delivers meals to families in need for Southborough's "Care Giver" program. Her community involvement also extends to working with local Boy Scouts and honoring veterans at annual events. Bea has become synonymous with the spirit of the Town, often referred to by residents as the unofficial "Mayor of Southborough."
Ginga was nominated for the award by State Representative Carolyn Dykema. Each year, each state legislator is allowed to nominate one resident from their constituency.
The award is granted by the Massachusetts Commission on the Status of Women. The commission describes:
The Unsung Heroines are women who don't always make the news, but truly make the difference. They are the women who use their time, talent, and enthusiasm to enrich the lives of others and make a difference in their neighborhoods, cities, and towns. They are mentors, volunteers, and innovators who do what needs to be done, without expectations of recognition or gratitude. These women are the glue that keeps a community together and every community has them.
Ginga is the 7th Unsung Heroine from Southborough since the MCSW began giving out awards in 2004. Past recipients from our town are Donna McDaniel (2013), Linda Hubley (2012), Debbie Depp-Wilson (2019), and Lisa Braccio (2009), Patrice Kline (2007) and Freddy Gillespie (2006).*
At last night's Board of Selectmen meeting, Selectwoman Braccio shared that Dykema picked up Ginga and her friend Betty Minucci to bring them to the ceremony. Worth noting, Dykema was herself an Unsung Heroine for Holliston in 2007, prior to becoming a legislator.
Here are photos from yesterday's event. (The first was tweeted by Mass Speaker of the House Bob DeLeo. The rest were contributed by Dykema's office at my request. ):