Covid-19 in Southborough: Situation and Updates on reopening
[For links to stories related to Covid-19 or reopenings, scroll down.]
Info below was last updated – February 26, 10:46 am
Vaccine Clinics
The Town has been promoting regional Covid-19 vaccine clinic opportunities. Most were for ages 75+ (though one was for Veterans ages 50+). They are now encouraging residents from Group 2 of Phase 2 to sign up to be notified of clinics. For my latest posts on clinics and registering for notifications, click here.
The numbers in Southborough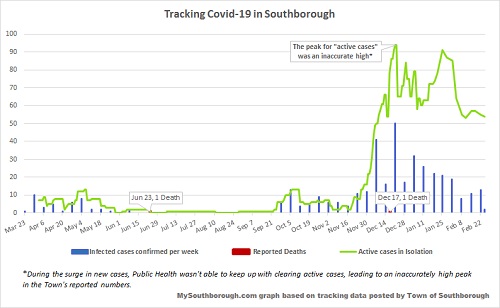 I received the Town's Covid-19 figures "as of" 9:00 am on February 25th.
The figures are close to those reported on Monday. 23 cases were confirmed in the prior 14 days, 15 of those in the prior 7 days.
On January 19th, the Town website announced that going forward, figures would be updated on Mondays and Thursdays only. The data generally isn't posted until sometime the following morning (Tuesdays and Fridays). (As I previously noted, Public Health's nurse explained that the frequent updates were making it difficult to ensure that data shared was accurate.)
The Town's cumulative total over the course of the pandemic was increased to 398 cases with 54 cases currently labeled active. (For details, click on graphs above and right.)
As for the accuracy of "active cases". . . A mid-December surge combined with Public Health staffing issues, created an inaccurately high peak in mid-December. (It's possible for other surge spikes since to contain cases no longer in isolation when staff falls behind on the ability to officially clear cases.) As for why (conversely) the number of newly confirmed cases can rise while the number of active cases in isolation stays low or decreases, that relates to the timing of the infection and symptoms vs. when test results come back. (You can read the explanation from Southborough's public health nurse here.)
Two patients have been reported as having died from Covid-19. The first resident died in late June and the second death was reported on December 17th. (No information has been publicly posted on that resident's identity.)* All other patients no longer classified as active were released from isolation.
Demographics: The Town website page provides the number of those cases under quarantine and those released from it, plus the age ranges of infected residents.* Below are my graphs showing the current age breakdown and the ages over the course of the pandemic. (Click to enlarge.)
Risk classification:

This week's report (issued February 25th) keeps Southborough in yellow/elevated risk for a 2nd week following 11 weeks of being designated red/high risk. It shows the Town's Average Daily Incidence Rate per 100,000 as 17.0 (higher than the prior report) and the % of tests confirmed positive as 0.92% (higher). (The reports are issued on Thursday evenings, based on data covering the 14 day period ending on the prior Saturday.) (You can read more about why there are sometimes differences between the Town data I track and the state's figures in their reports here.)
History:

On November 6th, the state changed its metrics for reporting community level risk. That moved Southborough to a low level risk community. While the Town was labeled as high risk by the state for several weeks this fall, under the new standards, it wouldn't have met that threshold.
Under the old criteria, all Towns' risks were measured based on the number of cases confirmed per 100k of residents. That meant that a few cases had a big impact on a small Town's risk level assessment. The state now uses three different models risk based on population size categories. As a Town with less than 10,000 residents, the calculation is much simpler. To move into yellow, there need to be more than 15 new cases per 14 days, and more than 25 cases per 14 days to be labeled red. (The most cases I have tracked Southborough as ever confirming in 2 weeks prior to November 6th was 20.)
On Thanksgiving, the state elevated Southborough's risk to yellow. On December 3rd, the state classified Southborough as red. The Town remained in the high risk category for 11 weeks until February 18 when it was lowered to yellow.
NSBORO School District Data: The Northborough-Southborough schools' February 21st Dashboard shows 9 cases were confirmed in the district, 221 over the course of the pandemic. Since it was school vacation week, the administration didn't track quarantines – just isolations for confirmed cases. Below are charts and info from the latest Dashboard and my tracking of their data since the start of the school year.
Surrounding towns

This week, the state kept all of our immediate neighbors in yellow with us (Framingham, Ashland, Northborough, Hopkinton, Marlborough and Westborough).

Story & Update links

The Coronavirus (Covid-19) pandemic is keeping many families at home to reduce risk of quickly spreading the virus.

Resources for assistance

The Southborough Food Pantry is still open during regular hours except for Tuesday nights. They have sent safety instructions to clients. If you want to help, you can make a gift card or cash donation. Or you can drop of items in Pilgrim Church's donation bin. (Items left there are "quarantined" for days before being added to the pantry stock.)
Seniors who need assistance should contact the Southborough Senior Center at 508-229-4453.
Small Businesses impacted can check the Economic Development Committee's posting of resources for help through state and federal agencies.
Those having difficulty making ends meet because of a loss of job, change in income, medical bills, or other hardship can find information on the Southborough Emergency Fund in a resource for residents mailer from the Town here.
Residents Experiencing Job Loss or Loss of Income can look at resources information shared by State Rep Carolyn Dykema
Emotional Support – Southborough Youth & Family Services is offering Online Support Groups with parenting issues, family matters, experiencing intense emotions, feelings of isolated and loneliness, worry over health concerns, or all of the above.

Facilities

Open

The Southborough Library – partially. The Library opened curbside pickup service on June 8th. Find those details here. Some online resources are also available to patrons with library cards via the Library's website. (You can read about those here and here.) The Library is also posting info and resources (including occasional virtual storytimes and book clubs) on Facebook.
Public Trails remain open. (Note: Chestnut Hill farm's trails temporarily closed, but reopened on Friday, April 24th. No dogs are allowed on the farm's trails.)
The Southborough Golf Club is open for golfing now with some restrictions.
Trottier's running track has been re-opened for walking and jogging. The public is asked to maintain social distance while using it. No dogs, bikes, or strollers are allowed.
After a 2-month closure, most Town athletic fields reopened on May 25th (except for Depietri Field and 9/11 Field). The fields are open with restrictions on use (like caps on gatherings and prohibitions on pickup games and organized sports). Organized sports will be allowed to resume non-competitive, uses by permit on June 15th.
Tennis courts opened on Tuesday, May 26th. With some restrictions. Restrictions will loosen somewhat on June 15th.

Closed/Cancelled

Depietri Field and 9/11 Field. (Repairs are being made to Depietri Field. The other field is leased from the state, and under the agreement only organized, by-permit use is allowed. Those uses for playing fields aren't allowed under the current phase of the state's "Reopening Plan".) See details.
The Southborough Senior Center closed in mid-March "Until Further Notice". There will be no classes, programs or Saturday Morning Unstructured Activities. The staff will be working in the building and available by phone. If you need to speak to a Staff Member, Staff Nurse or Outreach Coordinator, please call 508-229-4453.
Town buildings are still closed to the public (see details below under Town)
The Southborough Library is still closed for public entry – though other services as described above are available.
Summer Camps (run by the Town) and most Recreation programs were cancelled for this spring and summer. Town Rec is working to see if they can offer some events and/or limited programs sometime this summer. At this point they have one vendor offering Soccer Camps for one week in August.
Southborough Summer Nights is cancelled. (News is still pending on Heritage Day and the Gobble Wobble.)

Restaurants & Markets

Most Restaurants/Coffee shops in Southborough are still offering take-out and delivery service. (Though some offer delivery only through 3rd party services.) Some have opened indoor/outdoor dining. Click here for the updated list from December.
Most Markets are still open during regular hours. Two businesses are offering curbside delivery. Click here for the updated list from December.
Hair Salons reopened the week of May 25th, with some restrictions. Click here for the updated list from December.

"Coming together" community efforts

Southborough Front Steps project – was taking photos of residents outside their homes (from a safe distance) and collecting money for the Food Pantry and Youth and Family Services
Other news includes fundraising drives and support groups.

Town of Southborough

Public Schools of Northborough and Southborough

*The Town website states that under medical privacy laws, they can't reveal patients' identities. But it reassures:

The Southborough Health Department will continue to work with the Massachusetts Department of Public Health (MDPH) to ensure any affected residents are properly monitored, quarantined and isolated per the guidelines set by MDPH. . .

Each confirmed case will be contacted by the Health Department. Those considered to have been in close contact with a confirmed case will be contacted by the Health Department with proper instructions regarding quarantine and testing.