Covid-19 in Southborough: Situation and Updates on reopening
Info below was last updated – November 23, 7:31 pm. (To see if there is a more recent update, click here.)
The numbers in Southborough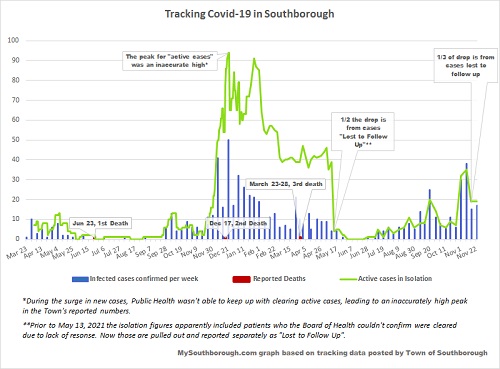 Town data is based on Southborough Board of Health's figures as of November 23rd. (These days they are issuing updates weekly – usually on Mondays.)
At that time there were 17 new cases confirmed since November 15 and 32 cases in two weeks.

The Town's cumulative total over the course of the pandemic is 742 cases with 19 cases labeled active. (For details, click on graphs above and right.)

A total of three residents' deaths have been attributed to Covid-19 over the course of the pandemic. All other patients no longer classified as active were released from isolation, except for 22 considered "lost to follow up."
This summer, the Public Health Nurse shared that of the breakthrough infections of residents who were fully vaccinated, none reported severe symptoms. (If you have yet to be vaccinated, you can click here for information on where to get a shot.)

Demographics: The Town website page provides the age ranges of infected residents. Below are my graphs showing the current age breakdown and the ages over the course of the pandemic. (Click to enlarge.)
Testing: The Town has partnered with Ashland on a free drive-thru testing facility. Click here for details.
State reporting:

Testing & Positivity Rates – Last week's report (issued November 13th) indicated 50 cases in two weeks with the % of tests confirmed positive as 2.7% (lower than prior report). The Average Daily Incidence Rate per 100,000 was 36.9 (also lower than prior period). (The reports are issued on Thursday evenings, based on data covering the 14 day period ending on the prior Saturday.) See my tracking of the testing & positivity rates right.
Click on the map right for a look at the Average Daily Incidence Rates in our region.
Vaccinated Residents

As of last week's report – 9,703 Southborough residents had received shots (as of November 16th).
My data extrapolated from 2019 census reports indicates about 99% of residents that were old enough to be eligible for shots were at least partially vaccinated. (I used census data since the state's population data was clearly outdated. Yet even that clearly undercounts our population.) The slight dip reflects that the eligible population expanded.
By the second week the shots were available, over 60% of 5-11 year olds received a shot.
More highlights by age group and gender are in charts the chart above right and graphs below. (They include vaccination progress charts that zoom in on recent months. The charts appear to indicate occasional age corrections):

(For more details on those groups, plus race/ethnicity, click here.)

Vaccine Clinics

To find a clinic/location to recieve a Covid Vaccine (including second doses) click here.
For information on Covid Booster shots and vaccinations for 5-11 year olds, click here.
NSBORO Numbers
The most recent Northborough-Southborough Public Schools District Dashboard covers through Wednesday, November 17th, with Daily Case Counts covering more new cases through November 23.
New Cases & Transmissions

Daily Counts for the past 6 days report 18 new cases, 6 in Southborough K-8. The prior 7 days included another 18 cases, 8 of those also in Southborough K-8.
In the Dashboard, there were no possible/probable new in-school transmissions since the week of November 10th.
Story & Update links
As of May 29th, the state considered the phased reopening complete. As of June 1st, Town buildings and facilities fully reopened. This summer, the Town issued a Mask Requirement for their buildings. (Click here for details.)
For Covid-related stories, starting with the most recent, click here.
Official updates by the Town are on the Town's dedicated website page – click here. (And click here to subscribe to their email updates.)
For stories on how the community made efforts to feel less isolated, offer aid, spread some joy or help mitigate stress, click here for coming-together posts.
For information beyond our Town, click links for CDC, updates by Mass DPH and the Governor, updates from our state representative, and the Mass AG's page for Frontline Worker Resources.