Covid-19 in Southborough: Situation and Updates on reopening
Info below was last updated – September 14, 3:42 pm. (To see if there is a more recent update, click here.)
The numbers in Southborough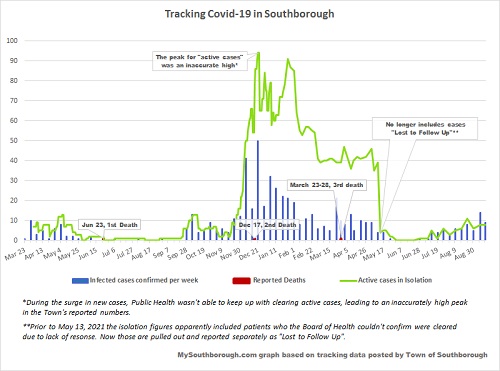 Town data is based on Southborough Board of Health's figures as of September 13th. (These days they are issuing updates weekly on Mondays.)
At that time there were 9 new cases confirmed since September 7th and 23 cases in 14 days.

The Town's cumulative total over the course of the pandemic is 575 cases with 8 cases labeled active. (For details, click on graphs above and right.)
The Public Health Nurse shared that of the 80 cases April 1 – August 9th, 15 were breakthrough infections of residents who were fully vaccinated. She said none of the fully vaccinated Southborough patients had severe symptoms. They only came down with symptoms described as similar to a mild cold. (If you have yet to be vaccinated, you can click here for information on where to get a shot.)
As for the accuracy of "active cases". . . It looks like the big plunge on May 13, 2021 was due to the Board of Health re-categorizing data to be more accurate.
As of Sunday, March 28th, a three were reported as having died from Covid-19 over the course of the pandemic. All other patients no longer classified as active were released from isolation or were considered "lost to follow up."
Demographics: The Town website page provides the number of those cases under quarantine and those released from it, plus the age ranges of infected residents. Below are my graphs showing the current age breakdown and the ages over the course of the pandemic. (Click to enlarge.)
State reporting:

Testing & Positivity Rates – This week's report (issued September 9th) indicated 14 cases in two weeks with the Average Daily Incidence Rate per 100,000 as 15.5 (higher than prior period) and the % of tests confirmed positive as 1.92% (<0.10% difference from prior report). (The reports are issued on Thursday evenings, based on data covering the 14 day period ending on the prior Saturday.) See my tracking of the testing & positivity rates right.
It appears that the state stopped actually classifying risk for cities and towns in its weekly reports. (Starting with the June 26th report, the state has left the color field blank.)
Vaccinated Residents

As of last week's report – 8,530 Southborough residents had received shots (as of September 7th).
My data extrapolated from 2019 census reports indicates 89% of residents old enough to be eligible for shots are fully vaccinated, and another 8% are partially vaxxed. (I used census data since the state's population data was clearly outdated.)
At this point more residents under the age of 50 are at least partially vaccinated than any estimated populations tracked for those age groups.
Since the data is based on vaccinations in state, the Board of Health is having difficulty tracking how many residents not confirmed as vaccinated are truly actually unvaccinated. (Especially senior "snowbirds".)
More highlights by age group and gender are in charts the chart above right and graphs below. (They include vaccination progress charts that zoom in on summer months.):

(For more details on those groups, plus race/ethnicity, click here.)

Vaccine Clinics

To find a clinic/location to recieve a Covid Vaccine (including follow-up doses) click here.
The Regional Covid Vaccine Clinic that was held at the Doubletree in Westborough has closed.

Story & Update links

As of May 29th, the state considered the phased reopening complete. As of June 1st, Town buildings and facilities fully reopened. This summer, the Town issued a Mask Requirement for their buildings. (Click here for details.)
For Covid-related stories, starting with the most recent, click here.
Official updates by the Town are on the Town's dedicated website page – click here. (And click here to subscribe to their email updates.)
For stories on how the community made efforts to feel less isolated, offer aid, spread some joy or help mitigate stress, click here for coming-together posts.
For information beyond our Town, click links for CDC, updates by Mass DPH and the Governor, updates from our state representative, and the Mass AG's page for Frontline Worker Resources.

NSBORO School District Data:

The Northborough-Southborough schools' will begin the new school year with masks required indoors but not outdoors. For more details on this year's protocols and revised quarantine guidelines, click here. (To check if they have more recent news, click here.)
The final weekly Dashboard for the 2020-2021 school year showed 309 cases for in-person schooling over the course of the year. (Hybrid schooling was phased in last fall, then full in-person phased in last spring. Some students chose an option to stick with remote schooling for the entire year.)
Over the spring, the number of quarantines and isolations fell significantly.
Below are charts and info from the final Dashboard and my tracking of their data released throughout the prior school year.