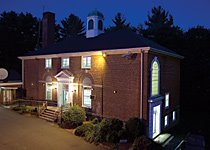 That's a question both the Municipal Facilities Committee and the Historical Commission are asking, but their answers are at different ends of the spectrum.
There are currently two plans on the table for a new police station, one calls for the existing building to be demolished and replaced, the other is a renovation of the current building. You can guess where this is going: the Facilities Committee recommends a brand new building while the Historical Commission wants to renovate the existing one which they say has historical significance.
The Historical Commission believes the renovation plan isn't being considered as a viable option because it wasn't thoroughly explored. That's why they told the Board of Selectmen on Tuesday night that they plan to spend $2,000 from their own budget to review options with an architect who specializes in historic rehabs.
"To do due diligence to the original building, we need to do a more thorough investigation," Historical Commission member Nancy Vargas said. Instead of using the rehab plan developed by the Facilities Committee, which Vargas said doesn't work from a planning perspective, the Historical Commission will develop a new plan.
But Chairman Bill Boland had reservations. "I do not see it as your responsibility to design a police station, regardless of whether it's in a historic building."
The selectmen previously lent their support to a new building over a renovation plan, but left the door open for options that would preserve the existing building.
Selectmen Salvatore Giorlandino expressed concern that the Historical Commission was going to oppose the demolition of the original building regardless of the results of their study. "I'm concerned the Historical Commission doesn't have an open mind," he told them.
The current police station was originally part of Peters High School. Vargas said a bad renovation in the 1970's is masking what could be a useful building. "There's nothing to be afraid of from this building," she said.
"I wasn't too happy to be in that building 40 years ago," said Boland who attended Peters High. "I don't see a lot of value from what was inside then or what's inside now."
The issue of building a new police station is currently slated to come up at Town Meeting in April. According to the latest draft of the warrant, voters will be asked if they want to fund the construction of a new building and the demolition of the existing one.
Related stories:
What's so historic about the police station anyway?
Have a look at early plans for the new police station
Selectmen lend support to new police station