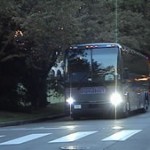 Southborough commuters who ride the Cavalier Coach bus to Boston and back can breathe a sigh of relief, at least for now.
The bus line that runs from Marlborough, through downtown Southborough, and then into Boston has been in danger of being eliminated due to low ridership combined with cuts in state subsidies. But the Metrowest Daily News reports ridership is up and the company plans to keep the bus line going for now.
The bus leaves downtown Southborough (near Lamy Insurance on the corner of Main Street and Boston Road) at 6:40 am, and stops at several locations in Boston. The return trip gets you back to Southborough at 5:40 pm. The fare is $5 each way. You can find more details on the Cavalier Coach website.