Hot off the presses, here are the latest in a series of images showing what Main Street could look like without above-ground utility wires. This set of  images show Main Street near the Common (in front of the Library). They depict what the area might look like after the Main Street reconstruction project and utility undergrounding. Last week I posted images showing other portions of Main Street.
State funding has been secured for the Main Street reconstruction project, and it's slated to start in 2012. The Main Street Council — a private group of residents, business owners, school officials, and developers — wants to underground the utility lines along Main Street while the reconstruction work is happening. The state won't pay for undergrounding, so the town would need to raise the funds separately.
Dennis Flynn, council co-chair, also sent me a Main Street undergrounding FAQ. It's a good read if you're looking for more information on the proposal.
Here's a depiction of what the Common might look like after the reconstruction project and undergrounding. You can also see before and after images in this PDF.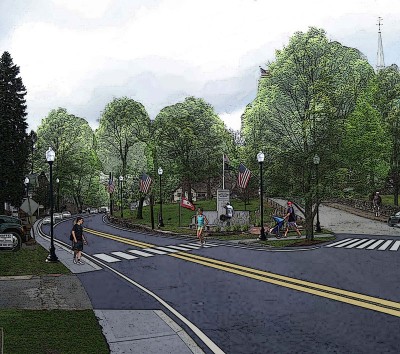 And here's one of what it might look like if the town went all out on landscaping and other details. More in this marketing storyboard.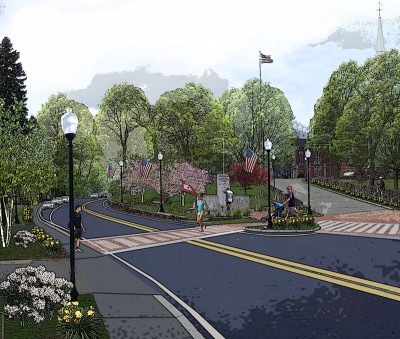 Related stories:
What Main Street could look like
Light blight on Main Street
Going wireless on Main Street