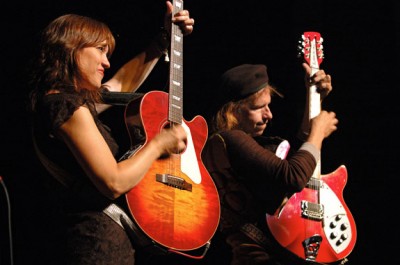 It's Valentine's Day weekend. Take in a show at the Steeple Coffeehouse with a discounted dinner beforehand. Stroll through the newly-reopened exhibit space at the Arts Center. Learn something at the Southborough Historical Museum. Or sample some chocolate at Panzano Market. Here are the details.
The Kennedys at the Steeple Coffeehouse
The Kennedys are a husband and wife folk-rock team who released their tenth album, Better Dreams, last year. The Montreal Gazette raved, "[The Kennedys] have created a cohesive, often infectious and sometimes poignant song cycle inspired by dreams: the dreams that come in the night, and dreams of a better world." The duo will play the Steeple Coffeehouse on Saturday with opening act Marc Douglas Berardo.
The show starts at 7:30 pm. Steeple Coffeehouse is located in Pilgrim Church. Tickets are $15 in advance and $18 at the door. Discounts are available for students and seniors. See the Steeple Coffeehouse website for more details.
As always, you can enjoy a 20% discount on dinner at Tomasso Trattoria on either Friday or Saturday night by mentioning Steeple Coffeehouse when you make your reservations. Be sure to bring along a copy of your ticket receipt. Valentine's dinner at Tomasso is a fixed price four course dinner for $45 or $65 with wine pairings.
Buffalo Soldier exhibit opening
An exhibit of art, books, and other materials at the Southborough Historical Museum honors the role of African-Americans in our nation's military. The collection, belonging to Buffalo Soldier Heritage, Inc. of Southborough, will be described in detail by guest speakers attired in period Indian Campaign (1866-1890) uniforms.
The exhibit opens on Saturday and runs through April 19. Hours are 10:00 am to 3:00 pm. The museum is located at 25 Common Street (behind Pilgrim Church). For more information, visit the Southborough Historical Museum website.
Algonquin student art at the Arts Center
The gallery at the Arts Center will be open from 1:00 to 4:00 pm on both Saturday and Sunday. The current exhibit is a showing of art by Algonquin seniors. The exhibit runs through March 1.
Chocolate tasting at Panzano
Just in time for Valentine's Day, sample hand-crafted artisan chocolates by Cocoapelli Chocolates of Natick. Chocolatier Jonathan Spillane will be at Panzano Market on Friday from 5:00 pm to 7:00 to dole out samples of his hand cut, dipped, molded, filled and lavishly decorated chocolates. Yum. Find more information on the Panzano website.