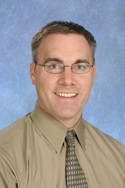 Algonquin Assistant Principal for Curriculum and Instruction John Harrington has accepted the position of principal at Littleton High School. He will finish out the school year at Algonquin with his last day set for June 30.
"Littleton is gaining a great principal," Superintendent Charles Gobron told me. "I have had the opportunity to work closely with John over the last eight years and I have appreciated his work ethic, his ability to organize and synthesize information in meaningful ways, and his desire to make each student's experience at Algonquin meaningful and  productive.  He will definitely be missed."
Harrington has been with the district as an assistant principal for eight years. Superintendent Gobron did not say whether he plans to replace Harrington's position and it's not clear to what degree the tight economic and budgeting climate will play into that decision.
Harrington's departure means two vacancies in the Algonquin administration for the 2009-2010 school year. The district is also looking to hire a new principal after current principal Ned Gallagher's contract was not renewed. Two finalists for the position were announced in January and a decision is expected by the end of the month.
You can read more about Harrington's appointment in Wicked Local Littleton.