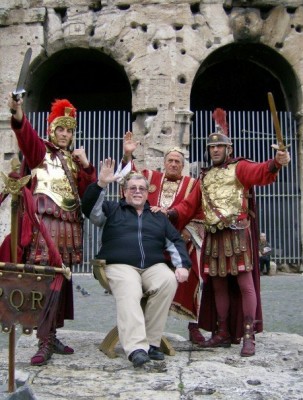 There has been a huge outpouring of sorrow on Facebook over Mr. Wrenn's unexpected death yesterday. Current and former students, parents, those who knew him through the New England music community, have all left comments and memories.
As of this writing, the group Dennis Wrenn: A Tribute had over 1,000 members, including members of his family. His daughter Elizabeth wrote a note of thanks to the group:
I think it is absolutely amazing, that in the short time since my dad has passed at how many people have sent their memories. It is an honor to be his daughter. These memories will be huge for my children to have to remember their Papa. Thank you everyone. Thank you for the memories, thank you for the pictures and thank you for just being there in this very difficult time.
A second tribute group called Dennis Wrenn – Students Giving Back has over 250 members.
For those of you not on Facebook, here's a sample of some of the comments. What comes across in all of them — and the hundreds of more like them on Facebook — is the extent to which he impacted the lives of his students and others who knew him. He was truly an amazing and talented teacher.
Among the many skills Dennis possessed was the ability to NEVER forget a former student, no matter how much time had passed. I always looked forward to the classic Dennis greeting…a big handshake and a "Heeeey man!" —Stephen Coldwell
I first knew Dennis as a teacher to my children, for his contribution to the Southborough community with band concerts and Memorial Day services, and as a colleague in the Regional School District. He is a icon to the music and education community and will be remembered by anyone with whom he has crossed paths. —Paul Renfrew
How can he have left without us thanking him properly for his devotion, caring, skill, kindness and humor. I have one child in a music major and one who was in Greece both are due to this extrordinary human being. I do not want to believe this has happened. —Maryanne Cole
All of us who found our voices through our instruments will miss Mr. Wrenn terribly. His bandroom was a hang out, a save haven, and a place where so many of us found our talents, skills, and confidence. His ability to teach extended so far beyond our simple instruments, and for that I am eternally grateful. Heaven is truly fortunate, for all the angels have just received the best conductor they ever could have wished for. —Laura Phaneuf
Dennis not only gave his all to the kids of Algonquin but to lots of adults in the community too. His influence in the fine arts community of New England is wide and deep. It was great to work with him as an Algonquin parent and play in his Interboro Band. He died doing what he loves surrounded by people he cared about and who adored him. I suspect that's how he'd have wanted it. He leaves an amazing legacy – all the lives he's touched. —Susan Faccenda Peghiny
It's crazy to think that the happiest man I ever knew died today. —Chris Mattaliano
Related stories:
Algonquin music teacher Dennis Wrenn has died