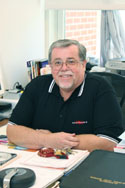 Longtime Algonquin music teacher Dennis Wrenn died suddenly Friday while on a trip to Greece with the Algonquin Jazz Band. He was only 58.
"Dennis was a gifted teacher of music, an enthusiastic champion of the arts, and a strong advocate for effective and meaningful professional development," Superintendent Charles Gobron said. "Perhaps Dennis' greatest skill was his ability to touch the lives of countless students.  He was incredibly dedicated to the teaching profession and to making positive contributions to students."
I know this news hits many of you hard, as it does me. I was a music geek in high school and spent countless hours hanging out in the safe haven of Mr. Wrenn's band room. To say he was the heart and soul of the Algonquin music program would be an understatement. So many of us were touched by his enthusiasm and spirit.
I don't have any information on the funeral arrangements, but will pass them along when I do.
If you have thoughts or memories of Mr. Wrenn, please share them in the comments. Also check out this tribute page on Facebook.
More My Southborough coverage:
Tributes to Mr. Wrenn
Media coverage for Dennis Wrenn
Music director's cause of death still unknown
Doing what he loved