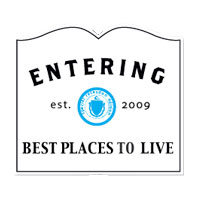 Boston Magazine recently published a list of the best places to live in Massachusetts, and Southborough didn't make the cut.
In our area, Hopkinton was named one of the top 10 towns "holding steady" in the tough economy, and Sudbury was called out as a top town for bargain hunters.
At least one reader felt Southborough was overlooked. Commenter Julianne wrote on the site:
I just wanted to let you know that i was very disappointed in this article as a proud home owner in Southborough, ma i believe we were the only town in the "red" on your map not to get a paragraph written about our town. Southborough continues to always be one of the highest end towns year after year in your annual real estate issue. Southborough generally is in the top 20 highest median priced home towns and in the top 10 highest income per household,yet THERE NEVER SEEMS TO BE ANY RECOGNITION FOR WHAT A SUPERIOR TOWN AND COMMUNITY SOUTHBOROUGH IS. Not to mention some of the finest public schools and two of the countries most elite private schools. It would be nice to not be thought of as some "hick" town out by worcester. MORE ARTICLES SHOULD BE WRITTEN ABOUT SOUTHBOROUGH.(instead of feeling like WHERE'S THAT)
So, what do you think? Should Southborough have made the list of best places to live? Sounds like time for another My Southborough poll!
Find the poll in the sidebar to the right and register your vote. (If you're reading this via email or RSS, you'll need to visit the site to vote.)