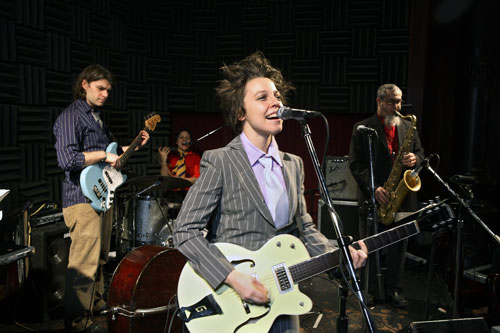 Exhibit opening at the Arts Center – Friday
The latest exhibit at the Arts Center opens on Friday night with a reception from 7:00 to 9:00 pm. Collage: Process and Product runs through April 10. If you can't make it to the opening reception, you can view the exhibit on Saturdays and Sundays from 1:00 to 4:00 pm, or on weekdays during normal business hours.
Disney's The Jungle Book Kids – Saturday and Sunday
The Neary Drama Club presents Disney's The Jungle Book Kids in two performances this weekend in the Trottier auditorium. The show opens on Saturday night with a 7:00 pm performance and continues on Sunday with a 2:00 pm matinee. Tickets are $5.00.
Buffalo Soldier presentation – Saturday
The Buffalo Soldier exhibit at the Southborough Historical Museum continues this weekend, with "fireside chats" by Pete DePina who is the man behind the exhibit. DePina has been collecting Buffalo Soldier memorabilia for decades. The items in the exhibit are all new for the month of March, so even if you've already checked it out, it's worth a revisit. The exhibit is open from 10:00 am to 3:00 pm. The museum is located at 25 Common Street behind Pilgrim Church.
Erin McKeown at the Steeple Coffeehouse – Saturday
Singer/songwriter Erin McKeown may only be 29 years old, but she already has 5 albums, 2 EPs, and numerous soundtracks and compilations to her credit. She averages 200 shows a year, and this year, one of those shows will be at the Steeple Coffeehouse.
Organizer Joe Mercadante says of McKeown, "be prepared for music from many different genres. Pop, rock, swing, jazz, old standards … there's plenty of old school here, but in a fresh way you probably haven't heard anywhere else." Up-and-coming singer/songwriter Naia Kete will open the show.
The show starts at 7:30 pm. Steeple Coffeehouse is located in Pilgrim Church. Tickets are $15 in advance and $18 at the door. Discounts are available for students and seniors. See the Steeple Coffeehouse website for more details.
As always, you can enjoy a 20% discount on dinner at Tomasso Trattoria on either Friday or Saturday night by mentioning Steeple Coffeehouse when you make your reservations. Be sure to bring along a copy of your ticket receipt.