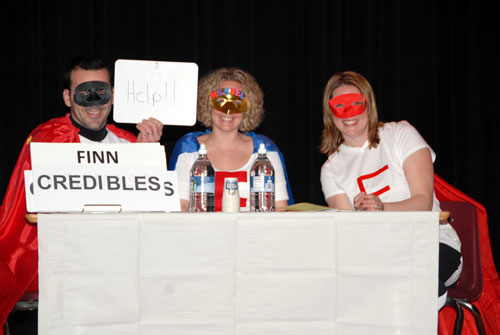 I am hopelessly dependent on my spell-checker. And those of you who have been reading this blog for a while now know even technology can't completely mask my ineptitude when it comes to putting the right letters in the right order. That's one reason you won't find me on stage at Trottier on Friday night at the Southborough Education 2009 Spelling Bee.
Luckily, others in town don't have such orthographic issues, and you're likely to see a bunch of familiar faces vying for the spelling crown on Friday.
A team from Trottier won top prize last year. They'll be back to defend their crown this year, but will face stiff competition from teams of Finn, Woodward, and Neary teachers, plus teams of Southborough doctors, dentists, fire fighters, and more. See the SEF flyer for a list of participants.
Judges will be Selectman Bill Boland, Superintendent Charles Gobron, and Ken Powers from the Community Advocate.
There will also be a raffle featuring prizes like a Bose Wave Radio, Red Sox tickets, gift certificates, massage and personal training packages, and more.
This is the second annual town spelling bee for the Southborough Education Foundation (SEF) which raises funds for teaching programs. Last year the event netted over $12,000.
And because the majority of the fundraising comes from sponsorship and team entry fees, tickets are a bargain at just $2.00 per person and $5.00 per family.
Plan to be there to cheer on your favorite team on Friday night at 7:00 pm at the Trottier auditorium.