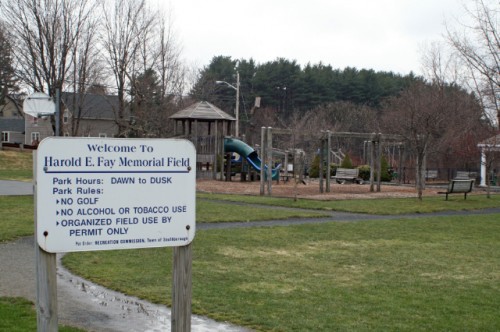 I love the playground at the Harold E. Fay Memorial Field on Central Street, but apparently the field portion of the property — used for baseball/softball, lacrosse, and soccer — could use some help. That's why the Recreation Department has nominated it to be part of the Kellogg's Frosted Flakes Plant-A-Seed contest.

As part of the contest, thousands of fields across the country are nominated. A panel of judges select 100 finalists that the public can vote on. Grand prize winners get funds to help rebuild their field.
You can help by visiting the Plant-A-Seed website and registering your support for Fay Field. The site doesn't say whether fields with more support are more likely to become finalists, but it certainly couldn't hurt.
Last I checked, Fay Field had over 400 supporters. Not bad, but some fields have thousands (and even hundreds of thousands!) of supporters, so we'd better get cracking.
Register your support of Fay Field today, and share the link with family and friends so they can do the same.
(And thanks to My Southborough reader Holly for emailing me this item!)