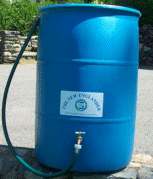 Your water bill in Southborough is based on usage, so saving water can mean saving money. And since the average homeowner uses approximately 40% of their water for outdoor use, a good way to save water is to use a rain barrel.
Thanks to a grant from the Massachusetts Department of Environmental Protection, Southborough residents can get rain barrels at a discount for a limited time. The first 20 residents to order can get a 55-gallon barrel for $62.95, almost 50% off the retail price of $119.95. Subsequent barrels will be priced at $72.95 each.
But you need to act fast. Orders will be accepted through April 24 by calling the New England Rain Barrel Company at 877-977-3135, or by ordering online. Barrels will be available for pickup on May 2 at the Transfer Station.
Here are some more details about the rain barrels:
The rain barrels are made from 55 gallon blue plastic recycled containers. The top does not come off, so no children or pets can get in the barrel. It has a six inch diameter inlet opening covered  with a screened louver to keep insects and debris out. The barrels have 2 brass spigots; one to allow you to connect a hose for watering, and one for overflow.  You can connect a hose to the overflow spigot and redirect the water away from your home.  It even comes with a 5 foot hose with a shutoff valve.  You can join multiple barrels for additional capacity.