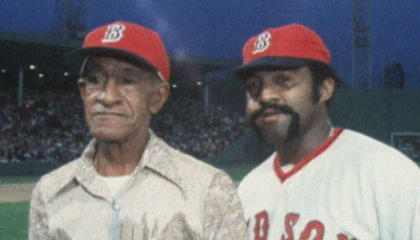 Red Sox great Luis Tiant is a long way from home. Born in Cuba, Tiant left the island in 1961 at age 20. After 19 seasons in the Major Leagues, including 8 with the Red Sox (1971-1978), he retired and now lives in Southborough.
A new documentary produced by Kris Meyer and the Farrelly brothers follows Tiant as he returns to Cuba after nearly 50 years.
Five years in the making, the documentary tracks Tiant from his spacious suburban home in Southborough – he retired from Major League Baseball in 1982 after a 19-year pitching career that compares favorably to those of several Hall of Famers – to the desolate streets of Havana, where he is jolted by the anguish and sorrow of the impoverished family and friends he last saw in 1961 after Fidel Castro's violent rise to power. (Boston Globe)
The movie premieres at the Tribeca Film Festival in New York on Thursday, and opens locally at the Independent Film Festival Boston on Saturday.
Read more in a great article by the Boston Globe, or check out clips of the movie on the Tribecca Film Festival website.